Top 26 essential WhatsApp tricks and tips: WhatsApp, the ubiquitous messaging app, has become an essential part of our daily lives. With over 2 billion users globally, it's a powerful platform for staying connected with friends, family, and colleagues.
While many use WhatsApp for basic messaging, it's packed with hidden features and tricks that can take your messaging experience to the next level.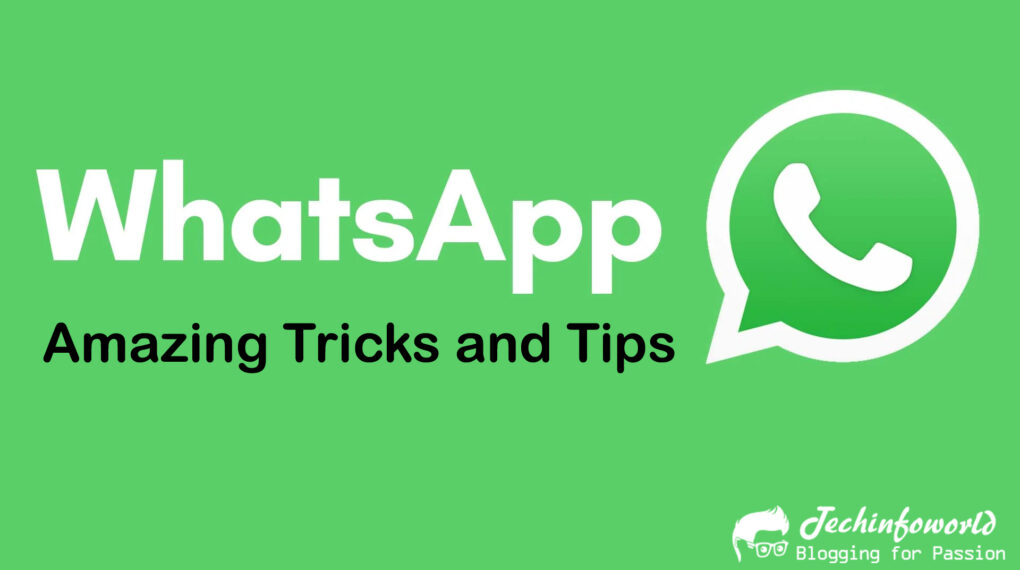 In this article, we'll explore some of the most useful WhatsApp tricks and tips, complete with examples, to help you make the most of this app.
Top 26 essential WhatsApp tricks and tips
Voice Messaging Made Easy
Sending voice messages is a breeze on WhatsApp. Instead of typing a long message, simply hold down the microphone icon, record your message, and release to send it. This is particularly handy when you're in a hurry or need to convey a more nuanced tone.
Pin Important Chats
Tired of scrolling through a long list of chats to find your most important conversations? You can pin your essential chats to the top of the list. Long-press a chat and tap the pin icon to ensure it's always at your fingertips.
Mute Annoying Chats
Part of several group chats that are constantly buzzing with notifications? You can mute them! Tap on the chat, select "Mute," and choose the desired time duration (8 hours, 1 week, or 1 year). This is especially helpful when you want some peace and quiet.
Mark as Unread
Forgot to respond to a message but don't want to forget? You can mark a chat as unread. Long-press a chat and choose "Mark as Unread." This gives you a visual reminder that there's a message you need to address later.
Customize Chat Wallpaper
Make your chats more personal by changing the chat wallpaper. Go to a chat, tap the three dots in the top right corner, and select "Wallpaper" to choose from WhatsApp's collection or use your own image.
Star Important Messages
For messages you want to revisit later, you can star them. Long-press a message and tap the star icon. You can find all your starred messages in "Starred Messages" in the main menu.
Hide "Read" Receipts
Wish to read messages incognito? Disable "Read Receipts" in the privacy settings. This way, senders won't see when you've read their messages.
Hidden Media
Want to hide certain media from your phone's gallery? In a chat, tap the three dots, go to "Media Visibility," and choose whether to show or hide media.
Custom Notification Tones
Customize notification tones for specific chats. Open a chat, tap on the contact's name, and select "Custom Notifications." This way, you'll always know who's trying to reach you without even looking at your phone.
Search Within Chats
Ever tried to find a specific message within a long chat? The search bar is your savior. Type in keywords, and WhatsApp will find the message for you.
Reply to a Specific Message
In a group chat with multiple conversations? You can quote a message for clarity. Long-press the message and tap the reply icon to include it in your response.
Format Text (Bold, Italics, Strikethrough)
Adding some formatting can emphasize your message. For bold, enclose the text in asterisks (*bold*), for italics, use underscores (_italics_), and for strikethrough, use tildes (~strikethrough~).
Mention in Group Chats
In a busy group chat, you can mention someone specifically. Just type "@" and select the person you want to address.
Broadcast Lists
For sending messages to multiple contacts without creating a group, use broadcast lists. It's a great way to share personal updates with select individuals.
Shortcut to Starred Messages
Frequently revisit your starred messages? Create a shortcut to your starred messages on your phone's home screen for quick access.
Enable Two-Step Verification
Enhance your account's security by enabling two-step verification in WhatsApp's settings. This adds an extra layer of protection to your account.
Lock WhatsApp with Fingerprint or Face ID
Worried about unauthorized access? Enable fingerprint or face ID lock within WhatsApp for extra security.
Control Data Usage
Want to save on data costs? Go to "Data and Storage Usage" in settings to control how much data WhatsApp uses for calls and media.
Read Later (Archive)
Archive chats you don't want to see every time you open WhatsApp. Swipe right on a chat to send it to the archive. It's a neat way to declutter your chat list.
Group Descriptions
To make group chats more organized, add or edit group descriptions. Simply tap on the group name to access this feature.
Voice and Video Calls
Need to make a voice or video call? It's easy! In a chat, tap the phone or video camera icon to initiate a call.
Group Video Calls
To start a group video call, select multiple contacts, and then tap the video camera icon. It's a fantastic way to stay in touch with friends and family, especially when you can't meet in person.
Sharing your contact or group information has never been easier. Share or scan QR codes to quickly connect with others.
Activate Dark Mode
If you prefer a darker interface and want to reduce strain on your eyes, enable Dark Mode in WhatsApp's settings.
Share your live location with friends or family for a specific duration. It's a handy feature for meeting up or ensuring safety during a journey.
Backup and Restore Chats
Don't lose your precious chat history! Regularly backup your chats to Google Drive (on Android) or iCloud (on iOS) to ensure you can restore them when switching devices.
Important WhatsApp Tricks and Tips Links
WhatsApp is far more than just a texting app. These WhatsApp Tricks and Tips open up a world of possibilities, allowing you to customize your messaging experience, enhance privacy, and streamline your conversations.
Whether you're a casual user or a WhatsApp Pro, these features will help you get more out of this incredibly app. Try this WhatsApp Tricks and use the WhatsApp for a Seamless Chat.