Renew TNPSC One Time Registration: In this article, I am going to explain How to Renewal TNPSC One Time Registration Online, If you are already having an account on tnpsc otr, it's valid for up to 5 years only, after every 5 years you must need to renewal your tnpsc one-time registration otr online, otherwise you can't apply other tnpsc examinations.
Note: As per the official notification of TNPSC Exam website, Users are not allowed to create more than one OTR account on TNPSC one time registration Website.
Also Read: How to Update Aadhaar Card Name Online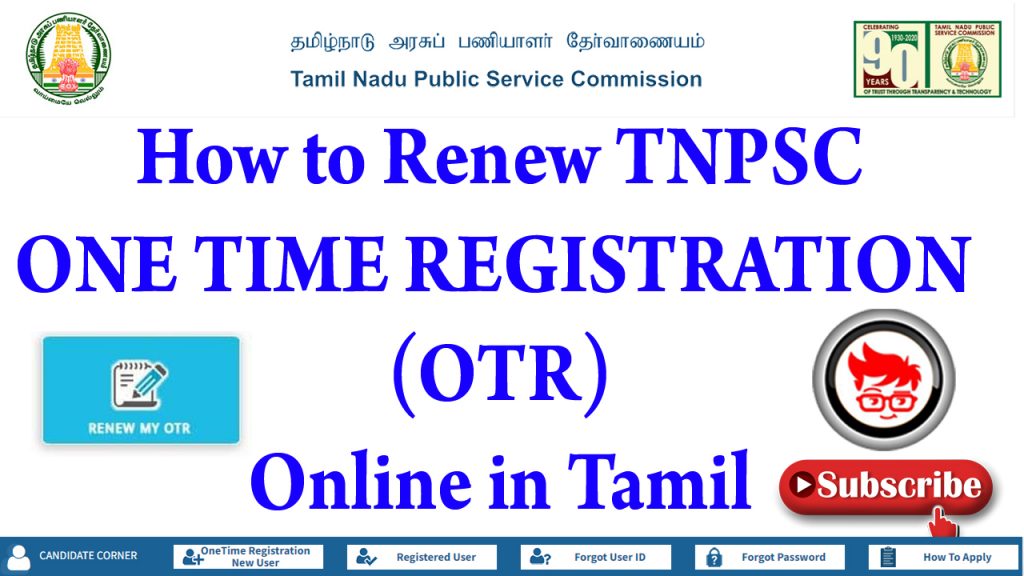 How to Renew TNPSC One Time Registration Online
Before you proceed to renew OTR you must be having Credit card/Debit Card or Netbanking Facilities to Pay the OTR Renewal Fees of Rs 150/-
| | |
| --- | --- |
| OTR Renewal Fees |  Rs 150/- |
| Time Taken |  Instantly |
| Apply Mode |  Online |
| Validity Period |  5 years |
| Apply Website | apply.tnpscexams.in |
| Payment Mode |  Online |
How to Renew TNPSC One Time Registration Online Step by Step Guide
Step 1: Directly visit the official website of TNPSC through this link (https://www.tnpsc.gov.in/)
Step 2: Scroll down to click on the registered user icon, it will redirect to the official one time registration website link
Step 3: Direct Website Link for Offical TNPSC One Time Registration OTR ( https://apply.tnpscexams.in/ )
Step 4: Login through OTR Web Portal using your Login iD and Password.
Step 5: Once successfully login, it will ask you to "Renew My OTR" and also it contains the registration date as well as the renewal date.
Step 6: Click on the "Renew My OTR" option, it will redirect to the next page
Step 7: On the page, it will show the applicant's Name, Email ID, Mobile Number, and there is an option to choose the Payment Gateway to Pay the Renewal Amount.
Step 8: Choose the Payment gateway and payment type to proceed it the further payment process.
Important Note: Use SBI Internet Banking Or SBI Debit or Credit Card, It will be done without any issues, other payment gateway makes sometimes have issues, I Face the issue of OTP not being received.
Step 9: Next Confirmation Page it will show the Summary of Applicant Details and Summary of the amount and TDS charges
Step 10: Click on PAY Now and Submit the application to pay the renewal amount
Step 11: Once payment is confirmed you can check it on the dashboard, it will automatically update to the next 5 years of your OTR account.
Step 12: Finally you can now able to apply for other exams.
How to Renew TNPSC One Time Registration Online Video Guide
Subscribe our Youtube Channels to get more latest updates.
Important Website Links
FAQ:
How much for OTR Renewal Fees on TNPSC?
Renewal Fees Rs 150/-
What about the Validity Period of TNPSC OTR?
Validity Period 5 Years.
What About the Payment Mode?
Online Payment Mode only accepted
Are there any Charges on Payment Gateway?
Choose the Payment option as no extra charges, otherwise, extra charges will apply.
Did payment debit my Account Server issue? What can I do?
Check it on the dashboard payment section you will get the latest payment details, if it shows failed you can retry to pay it, otherwise wait for a few hours, and retry.
Conclusion:
I hope this article, is really helpful for you to understand How to Renew TNPSC One Time Registration Online in Tamilnadu. if you like this article share it with your friends and all. Share the love with others with the help to know this wonderful online TNPSC OTR portal for TNPSC Exams.