Link Aadhaar TNEB Online: In this article, We discuss How to Link Aadhaar TNEB Online in Tamilnadu. The TNEB web portal allows you to link your Aadhaar to your TNEB consumer account. Tamilnadu Government Recently announced every TNEB consumer must link their Aadhaar number to their consumer account.
Otherwise, 100 free current units may be canceled in the future without linking your Aadhaar to your consumer account.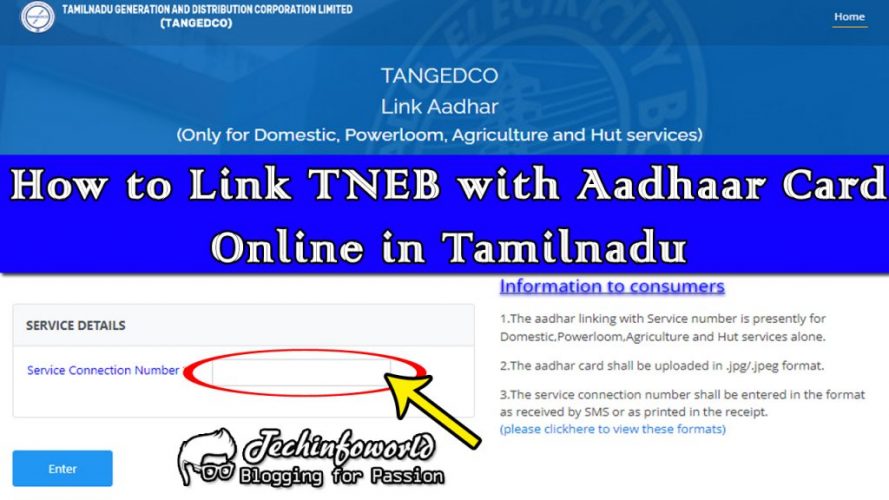 Link Aadhaar TNEB Online
Tangedco has already given guidelines to the electricity consumers to link the Aadhaar number to the consumer number by visiting the website of Tangedcco as well as directly eb bill payment website.
TANGEDCO Link Aadhaar (Only for Domestic, Powerloom, Agriculture, and Hut services)
Before Proceed to Link Aadhaar TNEB Online, You Must Need to Read the Below Articles
Trending Topics:
How to Add or Update TNEB Mobile Number Registration Online in Tamilnadu
How to Know Your Consumer No in TNEB Electricity Online 2022
How to Know Your Region Code in TNEB Electricity Online 2022
How to Pay Electricity Bill Online without Registration in Tamilnadu 2022
Important Note: Once Proceed to Link Aadhaar TNEB Online, You must have TNEB Electricity Registered Mobile Number, Consumer Number, and Aadhaar Card Details.
Follow the below step-by-step guide to Link Aadhaar TNEB Online.
Step 1: Visit the Official TNEB Electricity Bill Payment Website.
Step 2: Click on the Click here to Link Aadhaar Image on the website
Step 3: Its redirects to the website, For Link Aadhaar with TNEB Online.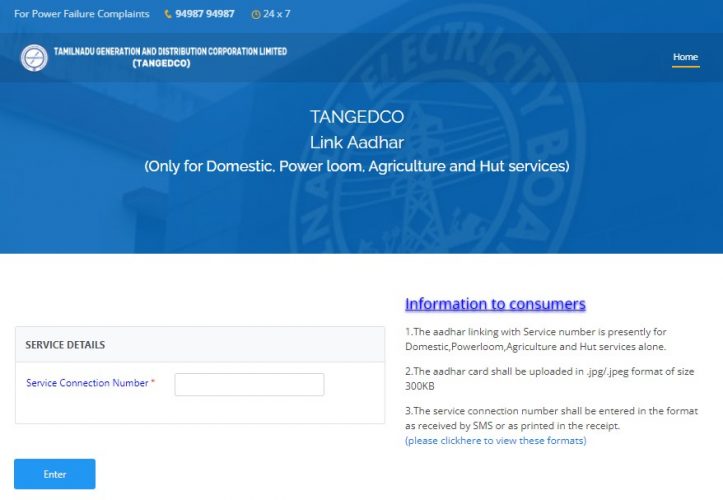 Step 4: Enter Your Service Connection Number to Click Enter.
Step 5: Enter the OTP Received on Your Register number on the Next Page.
Step 6: Click Enter
Step 7: Confirm the Service Connection Number, Name of the Consumer, and Supply Address.
Step 8: Occupant Details, Choose Owner or Tenant Options or Owner but the service connection name is not transferred.
Step 9: Next, Enter Your Aadhaar Number without any space.
Step 10: Enter your Name as Per Your Aadhaar
Step 11: Upload Aadhaar Card in .jpeg Format within 300kB, Front and Backside need to scan and upload within a single image
Step 12: Tick the check box, I hereby give my consent to link my Aadhaar to the above service connection number.
Step 13: Finally Click on the Submit Button
Step 14: Once Successfully applied you will get the message "The Details Have Been Uploaded Successfully".
Step 15: That's All. Now Your Aadhaar is Successfully Linked to Your TNEB Consumer Number.
How to Link Aadhaar TNEB Online in Tamilnadu Step-by-Step Video Guide
Subscribe our Youtube Channels to get more latest updates.
Frequently Ask Questions:
Is it Mandatory to Link Aadhaar with an Electricity consumer number?
Yes, You must link your Aadhaar details with your consumer number online.
Are there 100 Units free that will be canceled without linking the aadhaaar number to the EB consumer number?
As per Latest Infomation from the government side, No, it will not be canceled.
Are there Companies that need to Update their Aadhaar with TNEB consumer numbers?
No, Link Aadhaar (Only for Domestic, Powerloom, Agriculture, and Hut services)
It's possible to Link Aadhaar with TNEB Consumer Number Offline?
Yes, You can. Once you pay the EB bill at the Local EB Bill Payment office counter you just provide a copy of your Aadhaar card to link their service connection.
Shall I Pay Electricity Bill Without Linking my Aadhaar Number?
No, You Can't, Once EB Bill is Generated Within 2 Days you must Link your Aadhaar Number to Your Consumer Number, Otherwise You can't pay the bill offline as well as online.
How to Check Aadhaar Link with TNEB online?
Once registered, You will get the Status SMS to the Registered Mobile Number on your TNEB Consumer Number.
TNEB Consumer Number is on my Father's or Grandfather's Name, Now He is not alive ? How to Link Aadhaar With TNEB Online?
Now, TANGEDCO had provide the option to choose while Link Aadhaar TNEB online.
Important Web Links:
TNEB Electricity Helpful Number List
You can call the 24/7 TNEB Electricity Customer Care Support Team at 94987 94987 for Power Related Complaints, Application Related Complaints, and Billing Related Complaints.
TNEB Online WhatsApp Number: 94458 50811