Tnvelaivaaippu Exchange Code list: In this article, We discuss How to Get the Tnvelaivaaippu Exchange Code list Online in Tamilnadu. The government of Tamilnadu comes with a wonderful scheme that will provide employment services to students in the state of Tamil Nadu.
Tnvelaivaaippu is an online web portal for once finished your higher studies you can able to register for these employment services with your details.
The government of Tamilnadu Launch this Tnvelaivaaippu Web portal on 15th September 2013.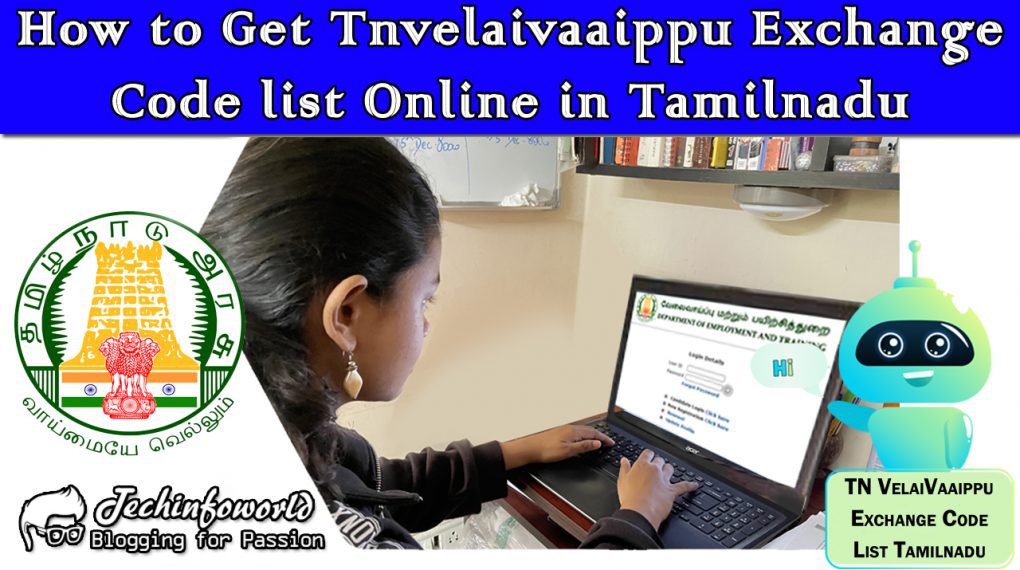 After the Launch of this tnvelaivaaippu.gov.in web portal, candidates do not need to visit the Tamilnadu Employment Exchange department for registration and card renewal.
you can directly signup with your details and renew your employment card online. Below we will add the details of the Tnvelaivaaippu Exchange Code List.
TNVelaiVAaippu Exchange Code list
Check the code list of all the employment exchanges in the state of Tamil Nadu
Exchange Code 
 

Exchange Description

 
ARD
 District Employment Office – Ariyalur 
CBD
 District Employment Office – Coimbatore
CBR
 Office of the Regional Deputy Director (Employment) –   Coimbatore
CDC
 Coaching-cum-Guidance Centre for SC/ST – Coimbatore
CHD
 District Employment  Office – Ariyalur
CHU
 District Employment Office (Unskilled) – Chennai
CHD
 Professional and Executive Employment Office – Chennai
CHG
 Head Office – Chennai
CHR
 Regional Deputy Director Office – Chennai
CHP
 Professional and Executive Employment Office – Chennai
CHT
 District Employment Office(Technical Personnel). –   Chennai
CHS
 District Employment Office Special Employment Office for   Physically Handicapped – Chennai
CUD
 District Employment Office – Cuddalore
DGD
 District Employment Office-Dindigul
NGD
 District Employment Office-Kanyakumari
ERD
District Employment Office-Erode
DRD
District Employment Office-Dharmapuri
KRD
District Employment Office-Krishnagiri
KPD
District Employment Office-Kancheepuram
MDD
District Employment Office-Madurai
NKD
District Employment Office-Namakkal
KRD
District Employment Office-Karur
MDP
Professional and Executive Employment Branch Office-Madurai
CUC
 Coaching-cum-Guidance center for SC/ST-Cuddalore
MDD
The Regional Deputy Director (Employment) Office-Madurai
NDP
District Employment Office-Nagapattinam
RPD
District Employment Office-Pudukottai
SLD
District Employment Office-Salem
SGD
District Employment Office-Sivaganga
PRD
District Employment Office –Perambalur
TCC
Coaching-cum-Guidance center -Trichy
RPD
District Employment Office-Ramanathapuram
TCD
District Employment Office-Trichy
TCR
The Regional Deputy Director (Employment)-Trichy
THD
District Employment Office-Theni
TJD
District Employment Office-Thanjavur
TND
District Employment Office-Thiruvannamalai
TNC
Coaching-cum-Guidance Centre-Thirunelveli
TND
District Employment Office-Thirunelveli
TRD
District Employment Office-Thiruvarur
VLD
District Employment Office-Vellore
VPD
District Employment Office-Villupuram
VRD
District Employment Office-Virudhunagar
TPD
District Employment Office-Tiruppur
TTD
District Employment Office-Tuticorin
TVD
District Employment Office-Thiruvallur
UGD
District Employment Office-Nilgiris
UGV
Special Vocational Guidance Centre for SC/ST-Nilgiris
VLC
Coaching-cum-Guidance Centre for SC/ST-Vellore
Frequently Ask Questions:
Validity Period of Tnvelaivaaippu Employment Identity Card
The Employment ID card issued to the candidates will be valid only for 3 years from the date issued by the Department of Employment and training.
Once 3 years are completed candidate must need to renew the employment id card to get benefits.
Tnvelaivaaippu Registration Fee
No registration fees for registration, It totally comes free of cost.
Is there a Tnvelaivaaippu Exchange Code List is Mandatory for Signup?
Yes, Its a Mandatory field to choose the exchange code list
How do I renew my Tnvelaivaaippu lapsed?
Firstly visit the official portal of the Empower-Employment Department, Tamil Nadu.
Click on In case of renewal link and a new window will open.
After that login page will open, fill in the login details i.e username and password.
How can I renew my expired employment card in Tamilnadu?
Visit the Official Site: www.tnvelaivaaippu.gov.in/empower.
Enter your User ID & Password.
Click "Renewal"
Enter the Registration Number which is 10 digit number.
Select Registered Location, District.
Complete the step by confirming the submission.
What is my Tnvelaivaaippu username and password?
Your USER ID / USER NAME for the tnvelaivaaippu.gov.in website is your Registration Number mentioned in your Employment Office Card. Something like W/7054/1998 or 1996M00216.
What is your Password? Your PASSWORD is your Date of Birth (DOB) in dd/mm/yyyy format.
What is the default password for Tnvelaivaaippu?
The applicants can log in to the Tnvelaivaaippu account after their successful registration. User ID will be in the format Exchange code/registration number provided on your ID and your DOB will be your password in the format DD/MM/YYYY
Important Note: Apart from the online mode to Register for Tnvelaivaaippu employment, you can directly visit the Tamilnadu Employment Exchange department for registration as well as renewal of your employment identity card.
It takes more time, Use an online method to make the procedure faster than offline mode.
Contact Information
If you have any Tamil Nadu Employment Exchange-related doubts or problems with registration on Tnvelaivaaippu. Use the below contact details to clarify your doubts and queries.
Phone No.- 044-22500124
Email- [email protected]
Important Website Links
Conclusion:
I hope this article, is really helpful for you to understand How to Get the Tnvelaivaaippu Exchange Code list Online in Tamilnadu. if you like this article share it with your friends and all. Share the love with others with help others to know this wonderful online e-service portal run by the Government of Tamil Nadu.