Apply Community Certificate Online: In this article, We discuss How to Apply Community Certificate Online in Tamilnadu. Tamilnadu Government Provide Citizens to Apply Community Certificate online using TN e-Sevai.
In the TN E-Sevai Online web portal users can register and get different certificates, You can also directly visit the nearby Tamilnadu e-Sevai service centre to apply for certificates with your respective details.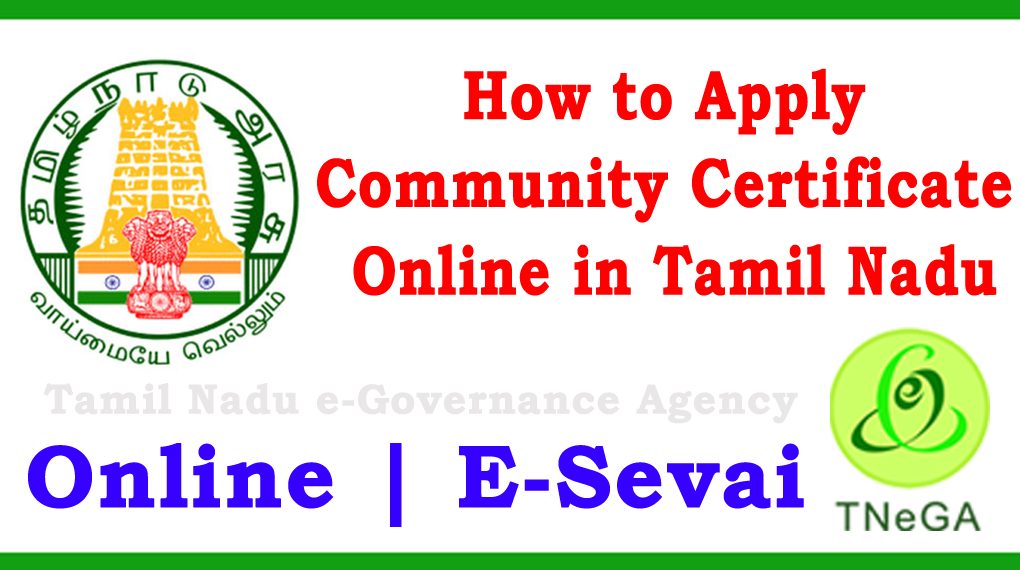 Tamilnadu Revenue Departement has the authority to issue the community certificate to declare the respective person belongs to the community like Other Backward Classes, SC, Scheduled Tribe. It's also called the Caste Certificate.
Also Read: How to Apply First Graduate Certificate Online TN e-Sevai
The system of issuing a permanent Community Certificate was introduced in the year 1988 in Tamil Nadu. This is valid for securing admission in all Educational Institutions and other professional institutions and also for employment
Eligible Criteria For Community Certificate
The person must belong to any reserved category such as Other Backward Classes, SC, or Scheduled Tribe.
The Person must be one of the Indian Citizens.
The Person must be residing in Tamilnadu.
How to Apply Community Certificate Online in Tamilnadu Using TN E-Sevai
You can easily apply for your community certificate online on your own, You just need to register on TN E-Sevai Official website, then only you can apply for various certificates on your own. Below we will add the Steps to apply for Community Certificate on the TN E-Sevai Website.
Important Note: Before you proceed to apply for any certificates you must need to create a CAN number with your details, Without a CAN Number you can't apply for any certificates on the TN E-Sevai Website. 
| | |
| --- | --- |
| Application Fees |  Rs 60/- |
| Time Taken |  Up to 15 Days  |
| Apply Mode |  Online |
| Validity Period |  Life-Long |
| Apply Website |  www.tnesevai.gov.in |
| Payment Mode |  Online |
Go to the Official TN (Government of Tamilnadu) E-Sevai Web Portal. https://www.tnesevai.tn.gov.in/

Click on the Citizen Login to Enter your login credentials to Login,
There is two option now available to login to your e-Sevai account.
Login With your mobile number, Enter OTP to Login, Direct Login using the Login Credentials already account created by yourself in the  E-Sevai web portal.
Once successfully login, Click Services on the Left Side Menu Section
Choose the Department Wise – Click on the Revenue Department.
Click on the REV-101 Community Certificate Link.
Click on Proceed to Continue.
Supporting Documents
Photo
Any Address Proof
Community Certificate of Father or Community Certificate of Mother or Community Certificate of Siblings
Self-Declaration of Applicant
DNC Certificate
How do I get a community certificate?
After Click on Proceed to Continue you can search your CAN number using the Mobile number or Email Id to search
Once choose the CAN number. It asks to enter a mobile number to verify OTP to continue.
Once successfully verified, click on Proceed to Continue.
Once Verify all the basic details of the person are already pre-filled because of the CAN Number you already fill in all the details
In the Form Details Section, choose the Father's Community, Father's Caste, Requested Community, Mother's Community, Mother's Caste, Requested Caste. Fill in all the details
Next, it will ask the question as to "whether any of the applicant's family members possess a permanent online certificate issued by the competent Revenue Authority". If any of your family members got a community certificate online means then choose this option as "Yes" otherwise choose the option as "No".
Once verify all the details, click on the submit
In the next window, it will ask to upload the list of supporting documents
Photo, Any address proof, Community Certificate of Father or Community Certificate of Mother or Community Certificate of Siblings, Self deceleration form of the applicant.
Supported File Types, .jpeg, .jpg, .gif, .png
Supported File Size of Document : 200 KB
Supported File Photo Size : 50 KB
Download the Declaration Form, Sign the form and Scan it, and make it in the form of pdf with a supported file document size and upload it.
Final Click on Make Payment
Once successfully payment is Done, you will get the application reference number. take the printout for your reference.
How to Apply Community Certificate, Step by Step Video
Subscribe our Youtube Channels to get more latest updates.
Important Web Links
How to Apply Community Certificate through E-Sevai Centre Offline
Community Certificate also apply offline, Applicant must visit the nearby E-Sevai centre
Fill out the form for applying with all the important details
Attach the supporting documents
Pay the application to apply the cost of Rs 60/-
Collect the receipt from the E-Sevai Centre operator.
The receipt will contain the Application number to track the status of your application online
Once the process of your application is verified by VAO, RI and Finally Thasildar will issue the community certificate.
You can download the residence certificate online.
Conclusion:
I hope this article, really helpful for you to understand How to Apply Community Certificate Online in Tamilnadu Through TN e-Sevai Web Portal. if you like this article share it with your friends and all. Share the love with others with help for others to know this wonderful option to get more certificates to apply online.