Recover Hidden Files: In today's technology world, each and everyone uses the Pendrive for data transfer between different computers. Sometimes most of them stored important files in Pendrive.
While you are using Pendrive, the main biggest problem is affected by viruses. Pendrive doesn't have any security measures, So malware and virus can easily attack your Pendrive and collapse the important data files stored on your Pendrive.
Once a virus or malware attacks your Pendrive means, it hides all the data files and creates the .exe extension to replace the stored files and also hide the files. In this post, I will give you the solution for How To Recover Hidden Files From Pendrive infected by Virus.
Some of them know how to do this simple task to recover their files but most of them don't know how to recover them, I will show you the simple steps to recover the hidden files from Pendrive.
Just Follow The Simple Steps To Know How To Recover Hidden Files From Pendrive?
Step 1: Go to the start menu, then in the search bar type "run" without quotes and press enter. The run dialogue box will be opened
Step 2: In this Run dialogue you will type "cmd" without quotes. Then press the enter key…
Step 3: Here I assume your pen drive as drive letter is F: , First You just need to change the path of the inserted Pendrive letter, Type F: and then press Enter. it will automatically change and showed like the below image.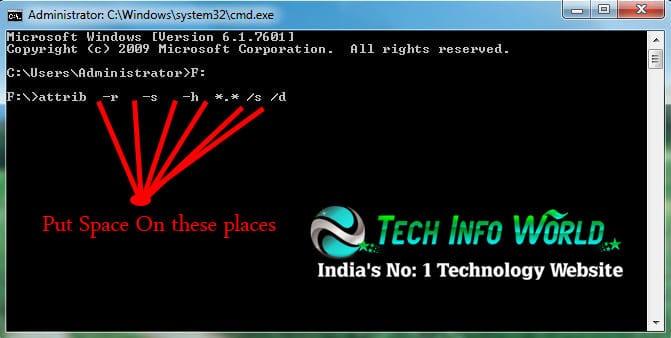 Step 4: Enter this command carefully, attrib  -r   -s   -h  *.* /s /d  Then Press Enter, if you didn't put the command correctly means it doesn't work for you.
 Step 5: Type this command del *.* lnk  Then Press Enter. It will ask ( Yes / No ) Enter " Yes " without quotes
Note :
1 ) *** Replace the letter g with your pen drive letter.
2) *** If you won't get your files, remove your pen drive, restart your pc, insert your pen drive, then take a glance at your drive name and start doing the same process given above..definitely it will work.
3) *** If you have any internal or external error in your "cmd" Then you must first remove the error by setting "classpath". Now check for your files