Hi Everyone, In this wonderful technology article, I would like to share the simple tips to create a Google AdSense account for your website. Every blogger, website designers as well as developers are well known for the word as Google AdSense.
It's one of the best money earning platform in the world. Most of the website having the Google Adsense account to earn massive income approximately 100$ – 500$ per month. Ok !! Now I like to share simple bio information about what is Google AdSense and how it works for beginners to earn money from Google.
What is Google AdSense?
Google AdSense is one of the best and high-quality advertising placement service by Google. In this money earning program is mainly designed for website publishers who want to display the image advertisement, text advertisement as well as text advertisement on his website.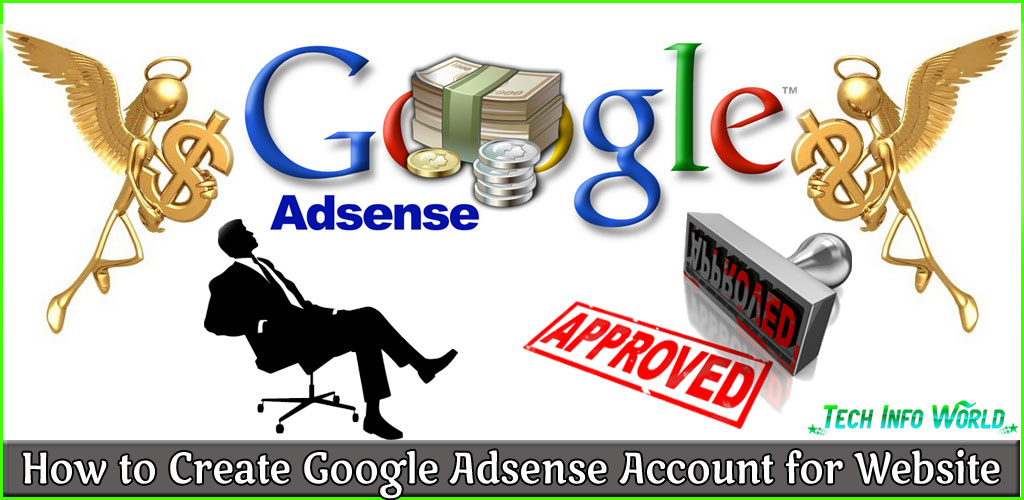 How does it work?
Google AdSense is work based on the high-quality organic traffic from google search engine visitors if any one of the visitors view the ads or click the ads means you can earn some amount. Check your earnings on your Adsense account.
Note: Don't Click your own ads, if you do it means your Google AdSense account will be banned.
What are the requirements needed for applying Google Adsense?
There are a couple of requirements mainly need for applying Google Adsense to your website.
First, you must need to have an own website or Blog, Myself I prefer "website" is best for applying Adsense.
Your age must be above 18. Otherwise, you will apply the Adsense with the help of your parent or guardian.
Steps to create a Google Adsense account on your website:
Google Adsense has been recently changed the account approval process, every day lots of members apply for Adsense account, so only they decide to change the approval process and this process of getting approval is the little bit lengthy.
Adsense Approval Process flow list:
Sign up for Adsense account with original details.
Create the Ads and get the code to add it to your blog or website.
Waiting for Approval from Adsense team, They will send the email if your application is accepted or rejected.
Note: Your blog or Website must follow all the rules and regulations of Google Adsense. You must follow all the terms and conditions of Google Adsense. OK !!! Now let's comes to learn about How to Create Google Adsense account?
The first Step Go to the Signup Page for Google Adsense. Check the below sample image for your better understanding.
On this signup page, you can click the sign to log in with your Gmail account or you can click create an account to create the separate Gmail account for Adsense account. Once you click sign in button it will automatically redirect to Gmail login page, Enter your login username and password to sign in to your account.
Tips: If you are having domain specific email address, try to apply using that email id. There are more chances of getting the approved Google Adsense account as faster.
In this second step, you must add your website details.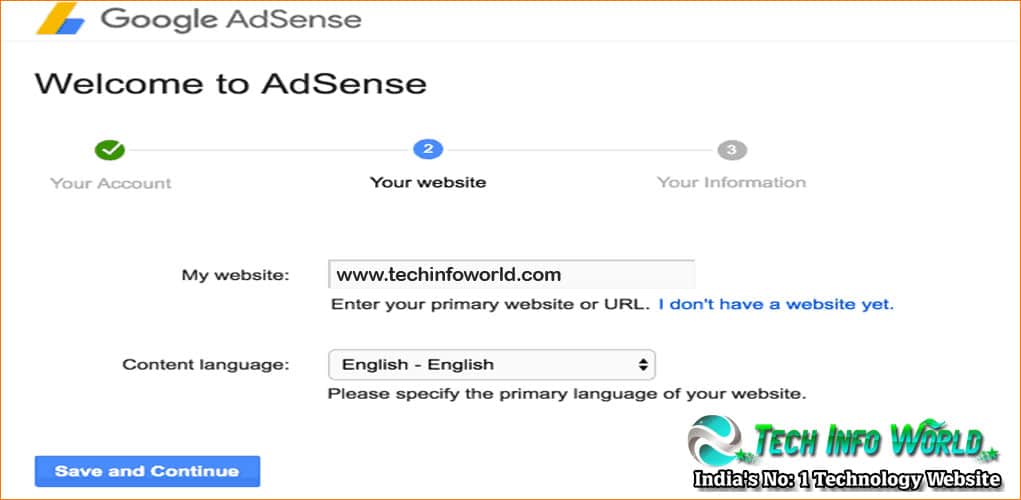 On my website, text box includes your website URL or blog URL address and then choose the content language of your website using the drop-down list.
Note: Don't use HTTP:// while inserting the website URL box.
In this third step, you must fill the contact information, This is one of the most important parts to create the Google Adsense account. Check the below image for your better clarification.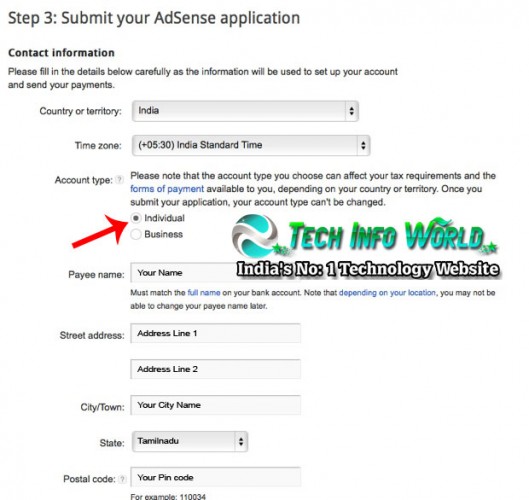 To fill all the details with original information, don't provide the fake information to create Adsense account.
Make sure you must include the original Payee name, it's very important. Think twice to include the payee name which has the same name under your respective bank account name, because Adsense will send your payment through cheque or Electronic Fund Transfer (EFT) Under your provided name.
Also Read: How to Create New ad units in Google Adsense Account
Important Note: If you put wrongly on your payee name means its more difficult to change it, Adsense will not allow to change the payee name in some set of countries, Click Here to check the list of countries which do not allow you to change the payee name in Adsense account.
In this Final Step you must accept all the Google terms and conditions, Then click on the submit your application.
Once you finished all the steps you must create the ads unit to get the code and place it on your website or blog. Now the works of the Adsense team they will review your application. And send the application status to your applied email id, Once your application got approved means Google ads will start showing on your website or blog.
Also Learn: Upgrade "Hosted AdSense account" into "Normal AdSense Account"?
Conclusion:
I hope this article will surely helpful for you to better understanding about How to create a Google Adsense account for your website. Stay tuned to get more articles related google Adsense tips, technology tips, news and much more…Sharing is carrying, try to share this wonderful Google Adsense tips for beginners, it will surely help all the beginners having blog or website.
Follow us on Google+ and Twitter or Like our page on Facebook to get the latest update from Tech Info World.