In the previous article, we discuss How to create Adsense account for your website. In this article, I like to share How to Create New ad units in Google Adsense. Most of them ask me, I got approval from Google Adsense but I don't know the next step, How to create ads and publish it on our website. Most of them well known about this, I like to create this article for Google Adsense Beginners.
Also, Learn More: Upgrade "Hosted AdSense account" into "Normal AdSense Account"?
Follow the Below steps to Create New ad units in Google Adsense:
First Login to your Google Adsense account through this link, It will ask you to enter the login details, use the respective login details to logon your account.
Once successfully login to your account, Left side navigation panel you will see the list of navigation menus. In that section, you will click on the My Ads.
Once click it, it will open on the right side panel. At the top left right side panel, you will see the option called as the +New ad unit. Click it.
Once click on +New ad unit. It will load a new page and ask the details for Name, Ad size, Ad type. In this name section, you will add the name of the ads you create for your reference and check the performance for your particular ads.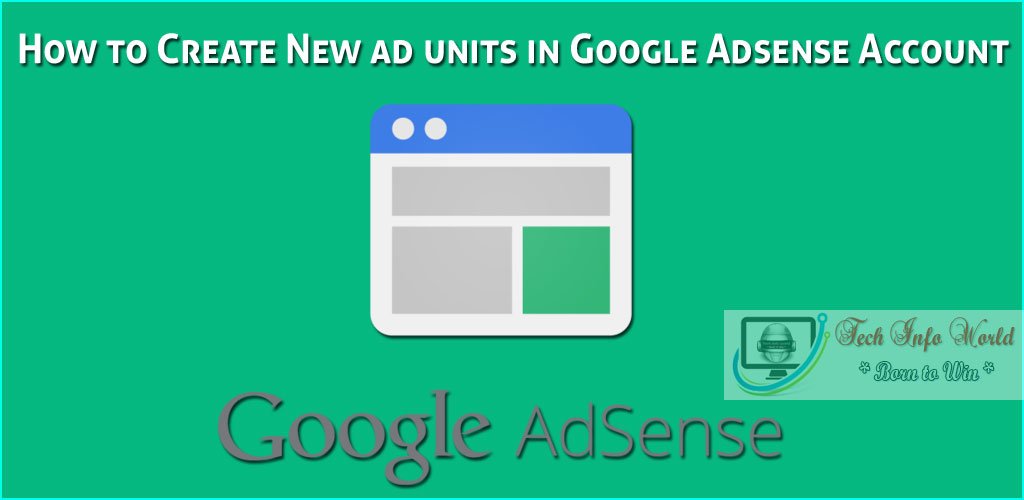 Then choose the Ad size. In this section it will shows the list of ads size Responsive ads, 300 x 250, 336 x 280, 728 x 90, 320 x 100, 300 x 600 . Choose the ad size what you like, you also having the preview option to check the size of the ads.
Then we come to Ad type section, Here it will show the 3 different options such as :
1) Text ads & Display Ads.
2) Display ads only
3) Text ads Only
Here you will choose it, normally chosen as the Text ads & Display Ads, It will show both text ads as well as image, flash ads automatically. If you choose Text ads only means its shows only text ads, display ads not showing on that particular ad. If you choose Display ads only means its shows only display ads, Not showing the Text ads on the respective ad.
In the final steps, Click Save and Get the code. It will show the respective code on the ads unit created. Below I have attached the sample Adsense code image. Copy the code and paste it on your website, it will show the ads on your wonderful website.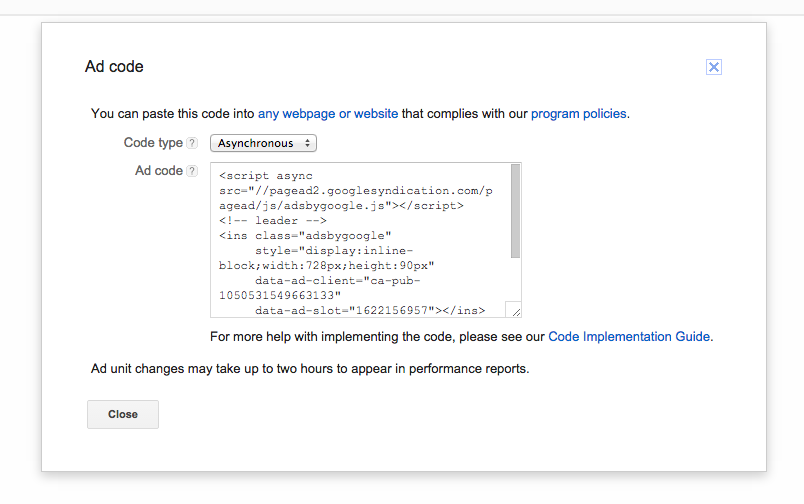 Conclusion : 
I hope this article will surely helpful for you to better understanding about How to Create New ad units in Google Adsense account for your website. Stay tuned to get more articles related google Adsense tips, technology tips, news and much more…Sharing is carrying, try to share this wonderful Google Adsense tips for beginners, it will surely help all the beginners having blog or website.
Also Read: Simple Steps To Earning Money Using Youtube
Follow us on Google+ and Twitter or Like our page on Facebook to get the latest update from Tech Info World.