In this article, i like to teach about How to Create a Google Play Developer Console Account with simple steps. In today's world, every one using Android smartphone and install lots apps for playing games, learning some tutorials, banking apps and much more…apps for use it on the daily purpose. In this post, i like to share the simple steps to Create a Google Play Developer Console Account to publish your Android app.
Also Read: Tech Info World Android App on Google Play store
Follow the Below Instructions carefully to create Google Play Developer Console Account :
Step 1: Sign up for a Google Play Developer account.
Create a new Gmail account for Google Play developer account creation or using your already having Google account for signup process
Sign up Your Google Play Developer Account , it will redirect to your Gmail login page, Login with your username and password. Once successfully login Below Image will be showed on your desktop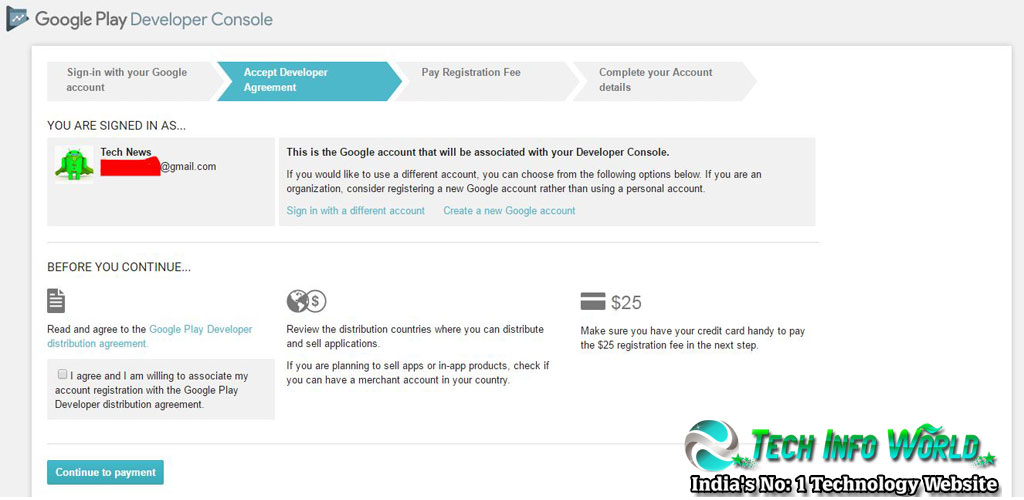 Step 2: Accept the Developer Distribution Agreement.
In this step, you must agree with the developer distribution agreement ( I agree and I am willing to associate my account registration with the Google Play Developer distribution agreement. ), Check that Radio Box and Click continue to payment options page. Check the below image for clarification.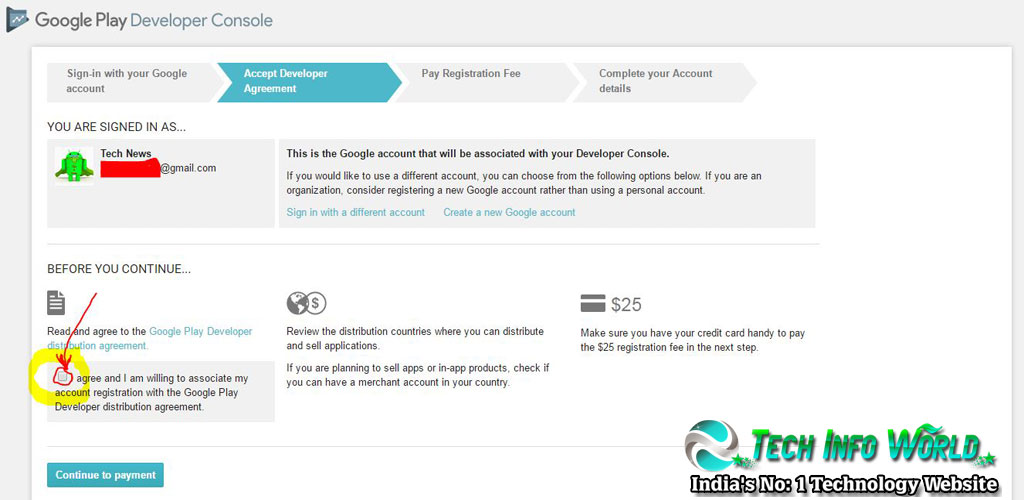 Step 3: Pay One-time registration fees for lifelong access.
It's one of the main parts of Creating the Google Play Developer Console Account. There is a $25 USD one-time registration fee that you must pay to create the account. you can use your own debit or credit card.
Important Note: If you are Indian users you must verify your bank about, if they transfer the payment for international money, Check it once otherwise credit card or debit card Not work for pay the amount
Below I have listed out the which Credit or Debit Cards accepted by Google

MasterCard
Visa
American Express
Discover (U.S. only)
Visa Electron (Outside of the U.S. only)
Important Note: The types of cards accepted may vary by location.
Check the below image for what are the details will fill out and pay to create the Google Play Developer Console Account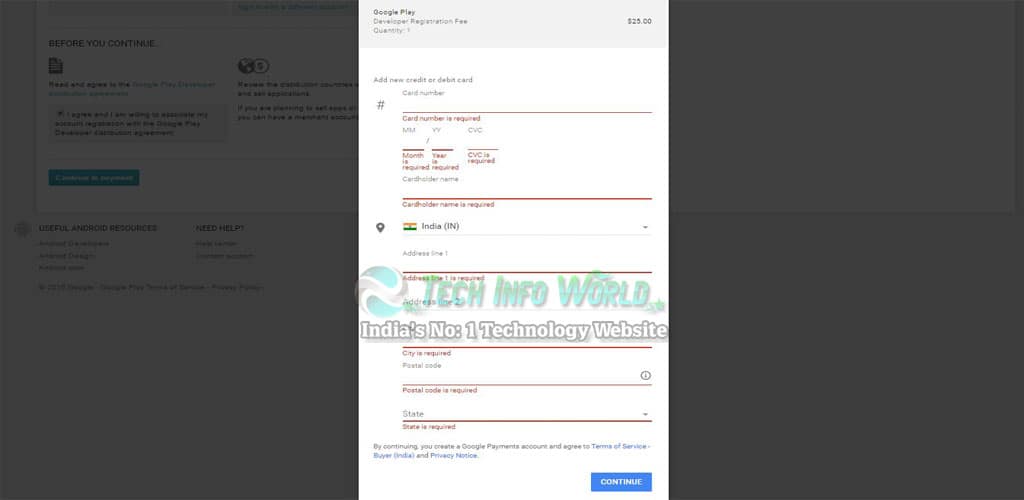 Step 4: Complete your account details.
Final step Fill your profile account details Developer Name, Website, Email Address, Phone Number,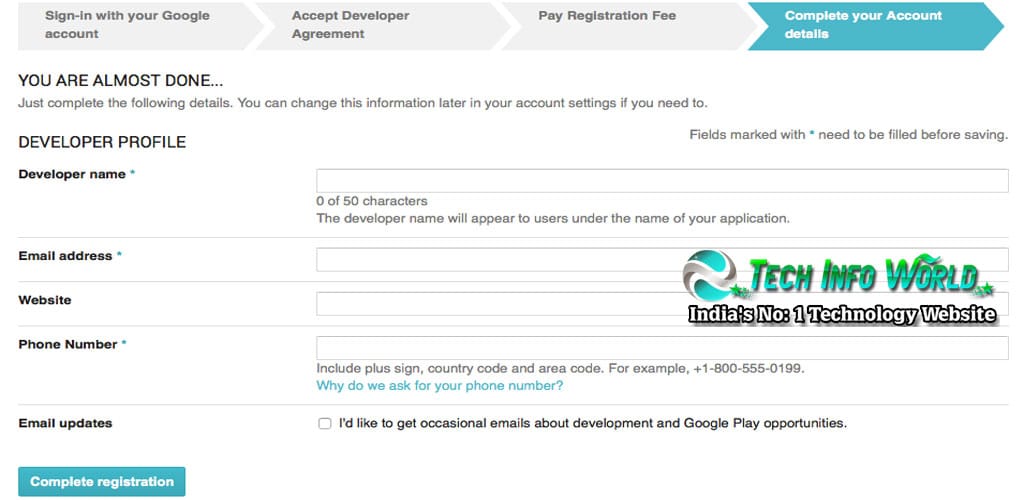 Then Finally Click on the Complete Registration. Once you login to your account it will show the status of payment details, check the below image.
Important Note: You can still upload you application/Game in the app store but you cannot publish in the store when you are under verification process. Read notification carefully as highlighted above.
Check your registered mail for your payment successful details, Myself account created with in 10 minutes.
Also Read: Important Requirement's Needed to Create an Android App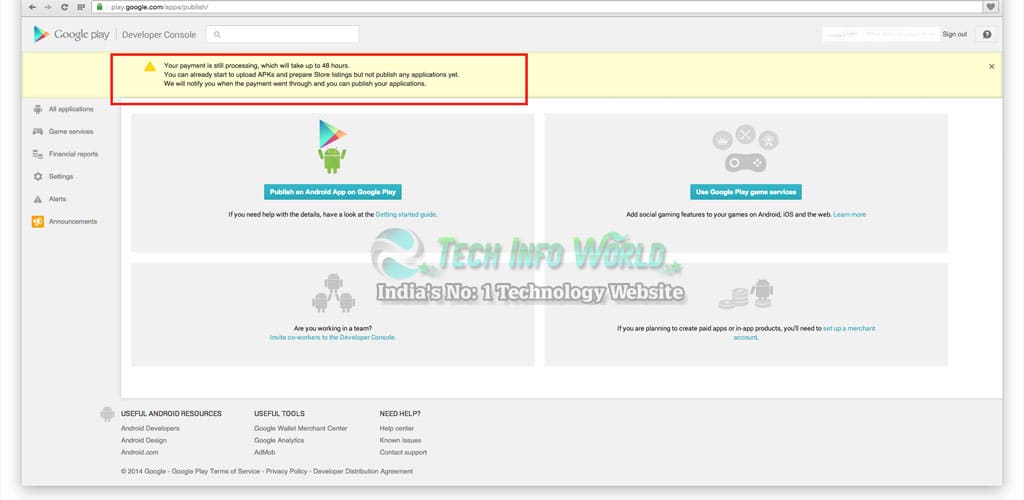 Conclusion : 
I hope you will understand the full step by step to Create a Google Play Developer Console Account. If the article is useful means kindly share it with your friend. Share the knowledge with all.