iPhone Program: The mobile industry is indeed amazing. It has developed so quickly over the years and keeps growing. According to the data provided by Statista, by 2020, mobile apps are forecast to generate around 189 billion U.S. dollars in revenues via in-app advertising and app stores. So it's no wonder that more and more people want to become a part of this industry.
But if you are one of them, you might be wondering where to start. In some way it's similar to learning how to write a general cover letter – it seems complex because you don't know what to pay attention to, but once you master the basics, it becomes much easier.  So let's get this figured out.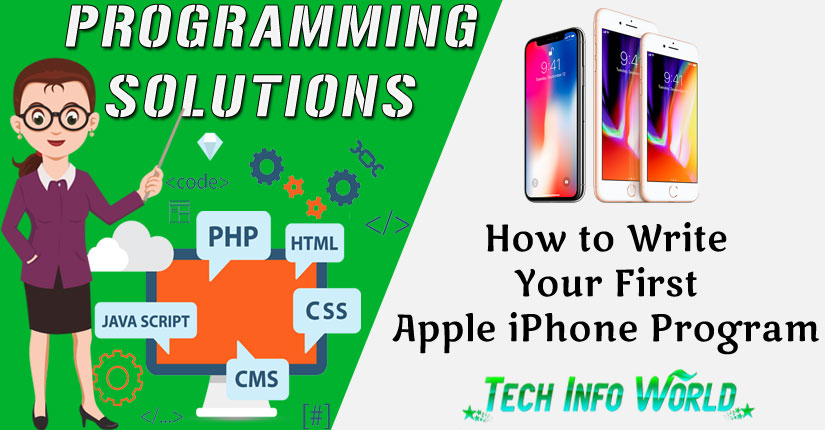 iPhone Program.
Before you start developing an app – before you even install an Xcode – you need to have a certain concept in mind. There's no point in building up some knowledge if you don't have even the basic idea in mind. So here are some things to consider when coming up with an app design plan.
Must Read: 3 iPhone Apps that will Rule 2017
1) What would your goal be?
There are so many different apps on the AppStore: some take photos, some play music, some are games, some are good for financial management, etc. Choose the type of your app and then try to describe it in a simple sentence. If you want to design an innovative app, double-check to ensure there's no app like that on the AppStore.
2) What would the features be?
Make a list of what your app is going to do. However, be careful: if you include too many features, this might not work as effectively as you hoped to. Such an app would be also much harder to develop.
3) Do you have a vision?
When you know the purpose and the features of your app, it's easier to come up with its strategy – or with your vision in general. Think of how you're going to position this app: would it be a business tool or a fun game? Not only does it help you to decide the marketing strategy in general – but it also helps you choose the right theme for an app that would reflect its purpose.
Also Read: iOS Vs Android: which OS is better?
4) How would the interface look like?
The more specific you can be at this point, the better it is for you. Make some sketches of the interface, ensuring that you sketch each one of the screens and map out all the interactions of every button.
5) What assets would I use?
Maybe you have a designer, who's willing to create graphic elements (such as icons, buttons, backgrounds, etc.) for you. Maybe you're going to use stock ones (Apple does provide them). Either way, it's important to figure this out at this point. The same goes for audio assets if you need any.
6) Do I need to use some extra technologies?
Most apps can be created with the help of the App Store and the Xcode only. However, some of them might require something more: for example, a special server. This also should be considered at this point on iPhone Program.
After you answer all these questions (preferably in as many details as you can), you would see the whole picture clearer. It will be easier for you to plan your investments, to decide whether you're going to do this alone or hire someone to help you, etc.
Download and install Xcode.
All iPhone apps are created with the help of Xcode – the special development environment that is available for free download on the Apple website. Keep in mind, however, that you can run Xcode only on OS X 10.8 or later.
If you want to develop iOS 10 apps, consider installing Xcode 8 along with the iOS 10 SDK. And if you want to develop iOS 11 apps, you'll need to install Xcode 9 along with the iOS 11 SDK. Though remember that the system is quite new, so it's always good to learn more about its features.
Sign up for the Apple Developer Connection.
It doesn't matter whether you plan on selling your app or not – either way, registering at Apple Developer Connection would always be a good idea. This way you'll be able to register your iOS devices, making them able to run test apps. You'll also have access to all the support materials on iPhone Program.
Access is free. However, if you want to sell your apps in the future, you need to sign up for an Apple Developer Membership that cost $99 per year at the moment on iPhone Program.
Build up your skills.
If you've been looking for some app designing guides already, you've probably stumbled upon Objective-C programming language. It was used for creating iPhone apps for a while, and so is still mentioned in the tutorials. However, these days Apple has transitioned to Swift – so that what you should focus on learning.
If you don't know where to start, this detailed guide created by Apple would be the perfect solution for you. It covers every aspect of app creation, allowing you to master all the basics quickly. Apple has another official guide for Swift 4, which is just as easy to master on iPhone Program.
If your goal is to develop apps for iOS 11 specifically, this course created by Stanford University can also help you. You can also check out these Apple's Development videos
Of course, there isn't the only data on app development that you can find – this is just the most basic (and mostly the official one). However, it would be just enough for you to master the basics and to build your first app.
Keep in mind that sometimes the basic skills would be enough. Sometimes, however, you'll need to build some additional knowledge, depending on the type of your app and the features you plan on including.
Also, keep in mind that creating an app might be very time-consuming. It also depends on the app you plan to create a lot: some are easier to build, while some are much harder. Moreover, you shouldn't forget that it would take you some time to master all the fundamentals before you'll be able to move to the development process.
So if you do want to create an app quickly, you should create a schedule and stick to it. It might be tempting to skip learning and development on workdays (if you do work and aren't able to dedicate all of your time to an app creation). However, you should avoid this on iPhone Program.
The more often you learn and work on your app, the better you become at this. If you save your learning for weekends only, you'll probably need to spend some time refreshing things that you've mastered last week in your memory.
And once you finish creating your app, you'll be able to submit it. In order to do so, you'll need to sign up for iTunes Connect – and be sure to do so even if you already have the Apple Developer Membership. You can also read the official guide to submitting apps to make the process even more easier.
After you submit an app, you'll have to wait for some time before it will be approved. Apple promises that every app will be either approved or declined within 24 hours after being submitted.
Summing this app, the app development might seem like a complex process to many – but only until you'll figure out what to do. If you're really set on creating your own app and are ready to spend some time and efforts on getting into details, building up your skills, and implementing them into life – you'll succeed.