To say that everyone is using mobile to boost their ecommerce sales these days is almost to sound outdated. It's not just that everybody is using mobile, but that everybody knows that everybody is using mobile and that's the way it's been for some time. So, if you're not using it, here are some of the ways that could really help to get your business up to speed. Mobile has a big impact on both content production and sales management, meaning that it could give all aspects of your business a boost.
Seeing Your Website Through Your Customer's Eyes
Mobiles and smartphones provide easy access to the internet at all times. People don't need to wait while their laptop boots up, because they can touch a few things on their phone and be on any website in seconds. It should not surprise you that large percentage of ecommerce sales are made through phones – that's 51% in the UK, 45% in the US and 41% in India.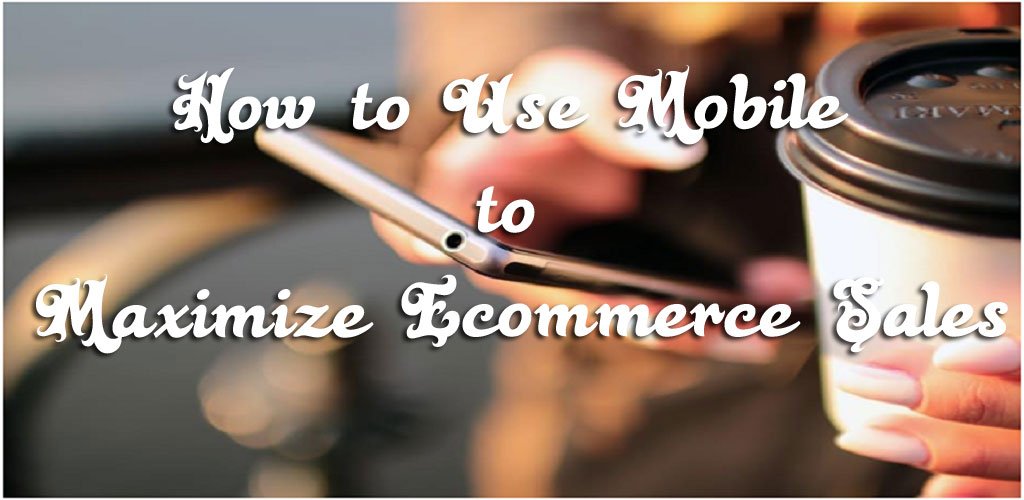 So however you look at it, a large number of your customers are going to be coming to your site with their phones… Or, at very least, a large number of prospects are doing so. If a website is poorly optimized for phones, then anybody who finds it through the phone is likely to leave quite soon after finding it. If mobile users are leaving your site due to poor optimization, you could essentially be cutting your sales in half.
It's important that you make your website responsive and accessible to people on all devices. Use the Google Mobile Test which will give you a score based on how well optimized for mobile you are — make sure that you get to 100%. Use your own phone to check your changes in real time; become your own test-customer and make your store inviting to phone-users.
Do you know how usable your website really is? By using a smartphone to visit your own website, you'll get an idea of how a lot of people will experience your site. Take your website for a spin, see how easy it is to use. If you encounter any trouble, or feel that things are not displaying as they should, you can guarantee that potential customers have experienced the same thing. Make sure you fix any issues fast — whether it's speed, development, or design issues. (Read about some of the latest web development trends here).With a better mobile user experience, you'll make more sales and more money.
Reach Customers at All Times
If you can reach your customers via a mobile at any time, you can market to them at any time too. This is not about overwhelming your customers with poorly constructed ads or copy — but helping them have a better experience of your store and brand via mobile. Here are some mobile marketing strategies that maximize both sales and customer experience:
Create your very own app and send your customers notifications whenever there's a sale. Apps help build long term customer relationships and give you vital user data. (Just don't be too pushy with push notifications).
Remember, not all mobile interactions need to be 'smart'. Send customers text updates on their home deliveries — a smooth delivery encourages repeat custom.
Provide 24/7 live chat services on mobile, and use the messenger app. Whether you use AI chat bots, or customer service teams — make sure that customers are getting value and quick answers! No one likes a frustrating customer service experience, and you will see a downturn in sales.
If you are constantly reminding your customers about yourself in subtle ways, you'll always be the one that they turn to. When they quickly check Facebook at the bus stop, your posts will be on social media. When they get home at the end of the month, they're notified that you've got a spotlight item reduced – what a coincidence, it was just pay-day… Being present on people's smartphones everyday helps maximize sales in almost a subconscious way.
Business Management Made Easy
The phrase "There's an app for that" has fallen into common usage. The reason? Because, for pretty anything you want to do, you can find an app which will help to make it much easier, including business management. These apps may not all directly maximize your sales, but they help to save time with a lot of day-to-day business tasks. This leaves you more time to focus on things like marketing and producing high quality products. Time is money and these give you time to make money. Here's a selection of apps which will be ideal for entrepreneurs:
Google Drive: Do you use a lot of documents and spreadsheets to run your ecommerce business? I'm sure you do and if you use Google Drive, not only will you get 5GB of free storage space, but with their app you can access these files easily on all devices.
Tripit: If you are the kind of person who has to make a lot of business trips, for ecommerce conferences, tradeshows, networking events and so forth, this app could be what you need. With this you can book every part of a trip in one place and you can even get directions and weather updates too.
Shopify: Shopify is one of the world's most popular ecommerce creation tools, and their app allows users to modify and manage their store at any time. If you use Shopify, there's absolutely no reason not to download this app.
Evernote: What do you do when you're on the go and inspiration strikes? If you're not writing it all down, you might forget it later and so you might be letting a million dollar idea pass you by. Evernote makes it easy to store your text, photo and voice notes so that no idea is ever forgotten – great for content ideas, marketing strategies and more.
Expensify: If you're bad at managing your expenses, this is the app for you. You can upload receipts, work within budgets, calculate your spendage and more. By keeping a close eye on all expenses, you can make sure everything you do is cost efficient.
24/7 Access All Areas
The main way that your mobile can help you to optimize your ecommerce sales is by helping you to make your online store active twenty-four hours a day, seven days a week. If you're only running your site when you're at your computer, you are severely limiting your potential. Customers shop 24/7, so you need to be switched on with a business that is 24/7 too.
Using your phone, you can optimize your site, run your social media, and take in more sales. It will bring you up to speed with some of your larger competitors and push you ahead of some of the smaller ones. Adopt a mobile-first strategy to increase your business agility and competitiveness.
Mobile commerce is not only about the customer experience you provide, but also your mentality as a business owner. You need to be flexible and ready to adapt to sudden changes: learn how to manage your business 24/7 with the help of mobile. What's your favorite mobile marketing strategy (and why)?
Author Bio:
Patrick Foster, ecommerce writer & marketer. Ecommerce marketer with 10+ years in the industry. I'm currently writing as a side hustle – I love to create content for entrepreneurs and business owners that helps them hustle and succeed. Big advocate of mobile commerce and social media for entrepreneurs.