Just like with devices and software, router users tend to only exploit only part of the functionality and capabilities. As a parallel, most users only use about 10% of the features and abilities Microsoft Word has to offer. This habit can not only cost you (or your business) additional time but can also lead to unnecessary purchases. While these attributes may not be required of all users; often times, these small changes or features can make a dramatic impact on your overall network. Some of the most commonly overlooked router aspects include:
#1 Boost Your Wi-Fi
In order to have better Wi-Fi for your network, it requires more than just plugging in your router. There are a number of easy to follow tips you can follow to boost your network's Wi-Fi capabilities. Some quick and easy tips to remember include:
Also Read: Top 5 Ways to Protect Your WiFi Network
Never place your router on the floor.
Avoid placing the router in a remote area (corner) of the house. This includes upstairs or in the basement. Otherwise, you will make it harder for the wireless signal to reach all areas of your home. You should always place the router as close to the center of the house as possible.
Steer clear of home appliances. Microwaves, cordless phones, and other basic home devices can affect the overall performance as well.
Regularly reset your router.
Use the proper router for your devices. The number of devices you are using to connect with can drastically impact the quality of your network. Therefore, you should always use a router that will work with multiple devices.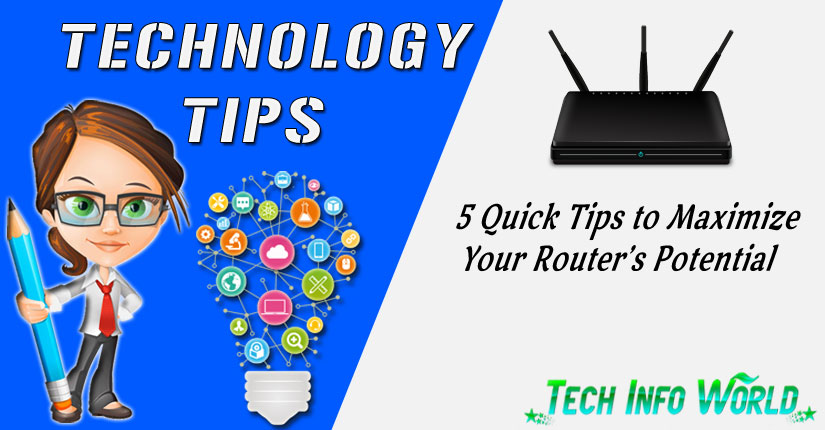 #2 Create a Wireless Network for Your Guests
Whether for home or business; if you tend to let guests use your wireless Internet connection, having a guest network can drastically help improve your network. After all, not many people want to just hand out their router password to every guest who decides to drop by. This is where a guest network would come into play.
Not only are guest networks more secure and convenient for your visitors; but it also allows you to separate it from your own private network, and in doing so will provide the additional network with its own independent security settings and a separate SSID to connect to. This helps to ensure not only the security of your network but the security of your own devices; by preventing guest access to your PC or printer.
#3 Backup, Media Servers, and Additional Storage
While this feature is generally associated with a variety of high-end routers, there is a range of Wi-Fi routers providing the ability to attach additional storage devices. This feature allows you to configure a media server that allows you to control who, what, where, and how your audio and video services are sent. Not only that, but it can also be used to manage your permissions for file-sharing, helping to create additional storage for your entire network.
However, it doesn't stop there. In fact, some manufacturers have taken it another step further. Not only do they feature the additional options for choosing your audio and video service delivery, but they also provide backup applications to help create additional security (and peace of mind) for specific files.
Also Read: How to Protect Your eCommerce Website from Malware and Viruses
#4 Increase Your Security
While one of the most important devices to your home network, your router is also generally one of the least secure. Due to this, it leaves your router open to a wide range of hackers, and antivirus software and other security features you have installed on your computer cannot help you.
Your router is a separate device that is best explained as the middleman between your computer and the Internet. Due to this, NONE of your security software will protect your router. However, there are a number of methods you can utilize to help decrease your device's vulnerability. These include:
Alter both the password and username for your router's administration information. Make sure to never use your name, birth date, home address, or other personal information for your password.
Change the Network Name.
Keep your firmware up-to-date.
Disable Remote Administration Access.
Turn off WPS, and use a WPA2 encryption with a strong password.
Log out after managing your router.
Never use the default IP ranges.
#5 Forbid Specific Internet Behaviors
While there are responsible kids out there who listen and honor your wishes in regards to Internet usage, there are plenty of kids (and guests) on the opposite end of the spectrum who have learned the ability to bypass filters or to use proxies for (illegal) torrent free downloads. In situations like this, you may want to pull out the big guns so to speak. In situations like this, you will want to increase your security by blocking the ability to use certain Internet behaviors.
This can be done using a number of tools. Using your router, go to the security menu. In this section, you can disable the VPN Passthrough, or use the Firewall section to block specific areas such as ActiveX scripts, cookies, JAVA, proxy use, and more. Thankfully, it doesn't matter how computer savvy your guests or kids are; because the router is more than Internet settings, it is the source of your Internet access. Therefore, it trumps all other options.
The router settings will take precedence over all other features, so if you don't want proxies, JAVA apps, or other features used, you can just select the things you want to be blocked and save your settings. This will ensure your network is officially protected from the Internet behaviors you deem unacceptable.
It is important to keep in mind hackers are clever, and no method is 100% bullet-proof. Therefore, there will be ways for people to hack into your router to change the settings or to bypass many features you set up.
Therefore, you may not want to go crazy with these features right away. Start by managing what goes on in your network and how people are using the Internet. Then if you have any inappropriate usage within your network, you have these options available.