Turning your blog into an affiliate marketing business is a great way to make money online. Affiliate marketing is a vast field which involves lots of different skills aside from your blogging ones.
Skills which include:
Finding the right niche
Finding affiliate products
Writing your product reviews
Mastering those skills is rather easy once you start to understand what affiliate marketing is and how it works. However, in this article, I want to focus on how you can find CPA affiliate products and how to make money off them.
What is CPA Affiliate Marketing?
CPA affiliate programs are one of the most lucrative products in affiliate marketing, as their payout can easily exceed $500 per sale. It is short for Cost-Per-Action which means that the affiliate marketer will get paid after making the visitor do a certain action.
These actions include:
Singing up for free accounts
Downloading games and apps
Filling out forms (i.e. surveys)
Subscribing up to a list (leads)
In all the above actions the visitor is not required to make any payment, and yet you will still earn affiliate commissions. There is a reason why the advertisers would pay such high affiliate commissions without even you making a sale.
For example, if your CPA affiliate program is paying you for free game download, then the company will be making its money from in-game purchases and premium versions. Or if a company wants to survey a niche before creating their product, then they will be paying you for each qualified survey-taker you helped bring.
This makes CPA affiliate marketing a powerful advertising and research tool for companies and businesses. They can achieve specific goals that help them dominate the market and consequently generate lots of sales.
How to Find High Paying CPA Affiliate Programs
CPA affiliate programs are spread across different niches and finding them is not that hard.
There are mainly three ways to find CPA offers:
Affiliate networks
CPA Offers Marketplace
Google search
Affiliate networks are companies that run the affiliate programs for multiple vendors and products. CommissionJunction, ShareASale, and MaxBounty are among the top affiliate networks that offer CPA affiliate programs; you can easily and freely signup for an affiliate account there.
There are also CPA marketplaces that provide a wide range of CPA offers from different affiliate networks.
OfferVault is one of those marketplaces with more than 55,000 CPA offers: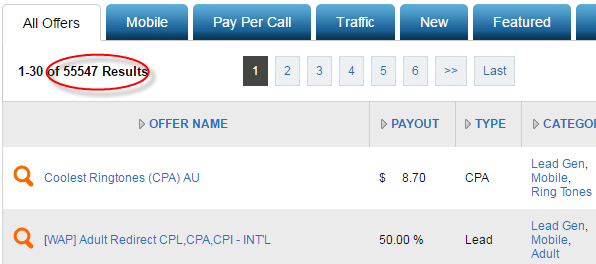 You can browse their marketplace to find a profitable CPA offer in your niche. There is more than one way to use Google search to find CPA affiliate programs, all which requires using the right keywords.
For example, to find CPA offers that pay you for every signup you generate, you can search for ["per signup" site:.com/affiliates]: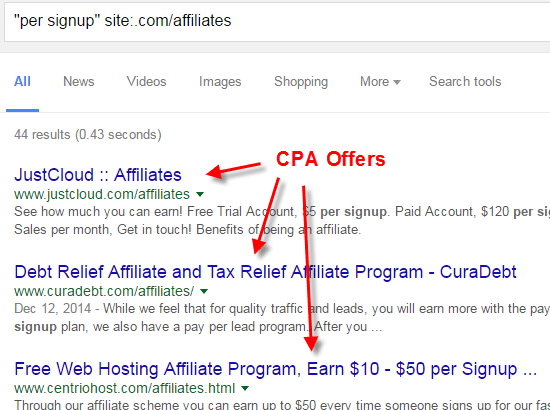 You can see that these affiliate programs offer generous commissions for just making someone signup. You can replace the "per signup" in your Google search with "per download" to find other types of CPA offers. However, you can also look for all types of CPA affiliate programs and not just those that pay per download or signup.
Do a Google search for [cpa site:.com/affiliates].

One thing about this search is that not all the results returned will be CPA affiliate programs. Some will be affiliate programs for a certified professional accountant (CPA), which is an accounting term. Others will be for software products that help you do CPA affiliate marketing, and some will be CPA affiliate networks. But once you exclude all of these, you will be left with CPA offers that you can promote.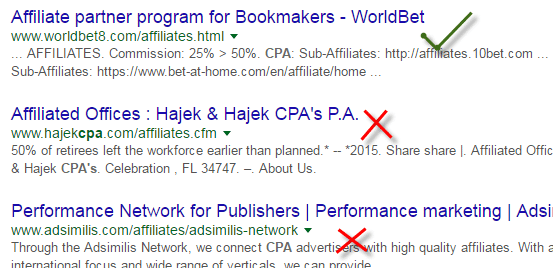 You might need to use your common sense to exclude those unwanted results.
Pros & Cons of CPA Affiliate Marketing
CPA affiliate marketing is not all rosy, and there are downsides to it. So let me show you some of the pros and cons that can help you decide if CPA affiliate marketing is the right path for you.
Some Pros that make CPA a profitable affiliate marketing model are:
High payouts that can reach $500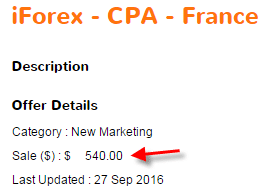 If you compare such payouts to non CPA affiliate programs you will find no comparison in terms of profits, as CPA is by far more profitable.
Easier to pitch to your readers
People won't buy from someone who is very eager to sell to them, and they tend to make purchasing decisions after first researching the product. With CPA offers you don't have to be overeager as you are not asking anyone to make any purchase. You can instead focus on providing value with your CPA offer.
For example, you can ask people to signup freely to your CPA offer while telling them that you will provide a comprehensive PDF on the topic. This increases your conversions at higher rates; it is like offering them a complimentary bonus. On the other hand, when you compare CPA affiliate marketing with other affiliate marketing programs, you will find that there are some cons:
You have fewer niche options
CPA offers are more common in Gambling, Forex, Gaming and Insurance niches (among others).
If you don't have any experience with these niches then you could be behind your competitors in terms of conversion rates.
Too much traffic limitation
Advertisers will pay you for generating leads, downloads and such, but this doesn't mean that every visitor on your website can earn you a CPA commission.
For the advertiser to be able to make a profit himself, he targets certain demographics and geographics. Advertisers may require that the lead you generate must come from certain countries: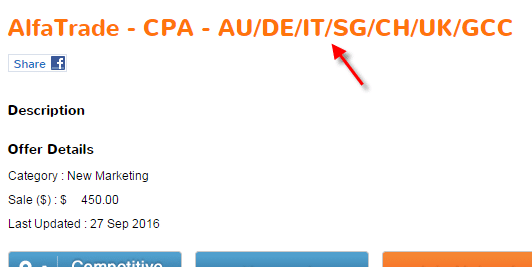 They may also tell you that the only traffic that qualifies is the ones that come from email marketing, or search engines. And if you depend on social media to get your traffic, then it could be a problem for you.
This targeting creates a traffic dilemma for you as an affiliate, since you will be required to acquire a qualified lead for your CPA offer.
However, by carefully researching the company that offers the CPA affiliate program and reading their terms and conditions, you should then be able to plan accordingly and overcome these hurdles.
In Conclusion
Many affiliate marketers start promoting CPA offers because of their vast profit potential. But my recommendation is that you should start promoting regular pay per sale affiliate programs to understand affiliate marketing as a concept.
Some affiliate marketing courses (affset.com offers one) to focus on regular affiliate marketing and they also prepare you for CPA affiliate marketing. So if you have access to any of these courses then you should be fine, otherwise, try to learn from many affiliate marketing blogs.