In this series of interview with super successful professional bloggers. I am going to introduce you with a very inspiring and super successful blogger, Gaurav Kumar. Gaurav is not only the founder of eAskme but he is running more than 100 blogs under his shadows. He has also made thousands of dollars till now with blogging every month.
Let`s know more about Gaurav Kumar from himself.
You can learn more about his creations from main blog eAskme.
Hi Gaurav, I am really happy to have you as a guest on, please introduce yourself as maybe some of my readers do not know you?
Hi Anto, it is my great pleasure to do an interview for your blog. You are a really creative blogger.
For those who do not know m, I am Gaurav Kumar, the professional blogger from India. I blog about startup business, Blogging and the latest technology. I started my blogging journey in 2014, with eAskme.com. After that, I started many websites on my blog network. I am a designer by education and full time blogger by profession.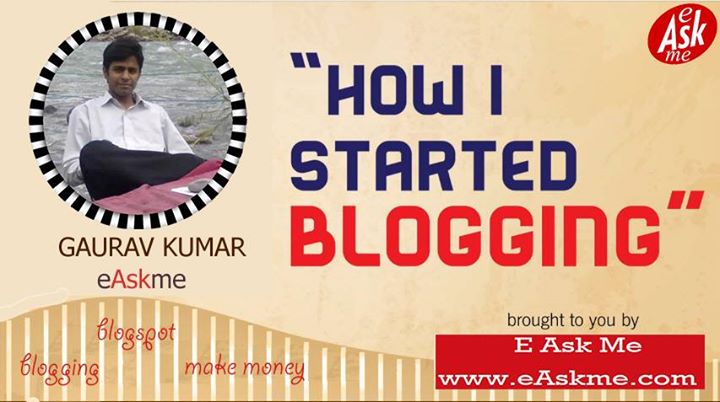 You are really an inspiring blogger, how did you start Blogging?
You may call it a great blogger, But I always believe in being a learning blogger who always ready to learn more. I am learning more and more things every day, to be a really Great ProBlogger. I like to work more on my blogs.
After a long time working in MNC`s I finally decided that blogging is something which is my type of work. First I started a few blogs on BlogSpot to learn and explore about blogging.
Later in 2014 I finally decided to become a professional blogger and started eAskme. Within 6 months I started making $300-$500. It was the time when I finally devoted myself to blogging and become a professional blogger.
I read all of your blogs and I believe that you put the lot of efforts to keep your blog running and make them successful, where you get that much motivation?
When I work on my blogs, my main motto is to find out how my articles will be helping the readers. My focus is always to create easy to understand articles which answer the readers' questions.
I also believe that people love eAskme not because it has so much content but because it answers their queries.
When it comes to how to articles I always try to talk to the point.
Q: On a blogging journey there are lots of ups and downs. How you managed to overcome these?
A bloggers journey is full of ups and downs. I did mistakes and learned from them. In the beginning, my English was not good, so I started focusing on that. I have improved and still trying to learn as much as I can.
There was one more thing which I had to overcome and that was fear of getting failed. With time I have learned that it is always good to improve even what I have written earlier. We can try success and failure depends upon many things.
It is always great to see eAskme growing, what is the best traffic generation strategy?
I always love the traffic from search engines. But there is also a good amount of traffic which my blogs get from
GooglePlus, facebook, twitter etc. There is no doubt that Facebook and Twitter are the biggest social media platforms to boost real engaging traffic.
How you manage to attract a lot of guest bloggers at eAskme?
Blogging is a journey of professionals. The more we connect with other professional bloggers the more we learn from them. I always like to keep things simple and transparent. I have also mentioned that I share 100% revenue with them. I also focus on the branding of a guest blogger.
Even if I have to reject an article, I always give a strong and valid reason for it. If you become a regular guest poster on eAskme you will find out these things.
What is the biggest mistake you have done as a blogger?
Plagiarism is one of the biggest mistakes which most of the newbie bloggers do. I started blogging on Blogspot by copy post as I was not aware of what is the impact of that. At that time I was not aware of how to do blogging and how to make money with blogging. When I realized, I deleted that blog.
The second thing was that I was not aware of SEO at that time. So I complete ignored that. I started the blog but never optimized, not even used Sitemap.
But now I know that for every single blogger it is really important to know SEO.
What is the best way to make money blogging?
In the beginning, Google Adsense is always a great source of passive or recurring income. But at the same time it is nothing as compared to the earning from an affiliate sale.
Making money depends upon many factors such as Traffic and SEO. If you want to make money blogging, you should learn about blogging and SEO.
eAskme is really a great blog, can any other blog be successful like eAskme?
eAskMe is not just for bloggers but for every single person around the world. People can not only learn how to make money online but also learn how to get motivation in hard times.
My Cousin has recently started WikiAskme.com and he is learning how to make it big. I believe he can bring some amazing results.
Any advice for bloggers?
Do not copy the style of others. Be creative and find your very own writing style. When you start blogging always focus on popularity not just on money.
Who is your favourite blogger?
It is not easy for me to name as there are many bloggers whose writing style really inspires me. As you want to know Amit Agarwal from Labnol and Darren Rowse from problogger are really inspiring bloggers.
For the sake of my readers, can you please tell about your other websites and social platforms?
Currently there are few blogs which are actively running under my blogging network.
– eAskme: Ask me anything for all Bloggers and money making tips.
– WikiAskme: Blog for technology
– Wikihealthblog : As the name specifies it is a health blog
– iOSCrunch: It is a niche blog
– AwardWinningBlog : a Newbie blog who is learning how to do it
This is really an amazing interview with super successful blogger Gaurav Kumar. I have always been learning from Gaurav and he is really inspirational. You can check his above blogs to learn his stuff.