Really Happy to see you all in our new technology post, Ok !! Now let's come to this post, Here I like to share the simple technology tips for web developers as well as programmers to Find Any website server IP address easily.
Most of them very well known about what steps to find out the server IP address of any websites. Lot's of websites available in google to get the IP address of the website, but some of them don't know to easily find out the IP without going to others IP finder websites. I will give the solution to find out the server IP of any websites.
Just follow the below steps to find website server ip address :
Step 1: Go to start option to type " run " in the search and then Press the Enter key. Run Dialogue Box will be opened.
Step 2: In the Run Dialogue box just type "cmd" or "command" without courts. Command Prompt Window will be opened on your desktop screen. Check the below image for your clarification.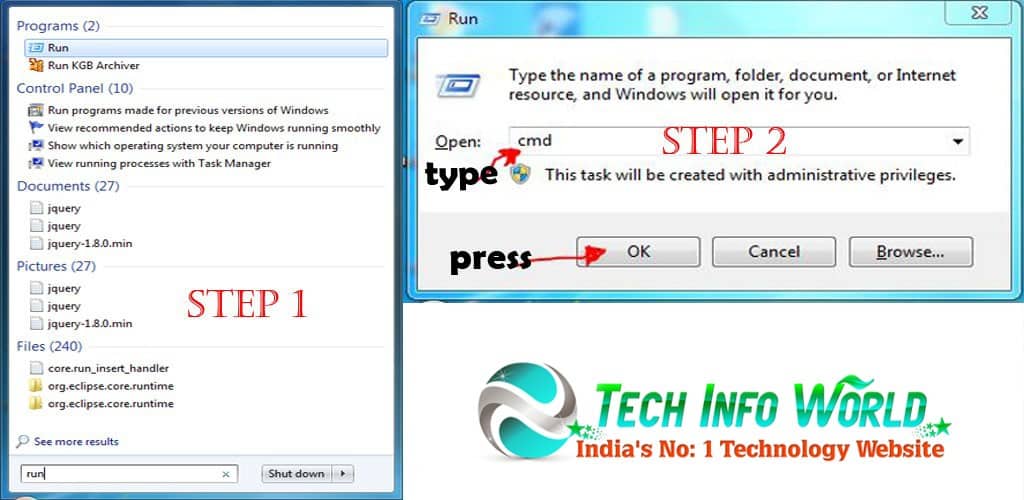 Step 3: It's the very important step to find the server ip. In the command prompt windows just type as the  " ping space anywebsite.com or .in "  without courts
Example: ping www.techinfoworld.com
Check this image for better understanding how to type without error in command prompt.
In the above example, I choose the website as www.google.com, for google.com website server IP address is 216.58.220.36. click on the new tab on your browser to type this IP address, it will be directly redirected to the google.com website.
Conclusion :
I hope of them like this article very much, it's one of the simplest ways to find out the website server IP address easily without going to other websites. There are more no. of the website available to get server IP the address for the website using command prompt is the cool way to find it easily. Sharing is carrying, Kindly share this post to all. Keep staying tuned to learn more latest technology tips.