Google Website: Welcome to everyone, In the previous post we will discuss How To Create Free Website In Google Part on Google. I hope all of them understand the part – I of free website designing on Google.  In this part one, I will be a detailed explanation about How to create the site with simple 10 steps, How to log in, how to choose the name of your website as well as website link address, and much more we discuss in the part- I.
Now let's come to this post we will discuss the second part of the Google website designing, here I will explain about How to customize or personalize your created Google free website template home page. It's a little bit difficult to modify the home page.
Also Read: Top Web Designing Mistakes Every Small Business Make
If you know very well HTML, CSS means it's very easy and simple for you. Otherwise, it will be a little bit complicated, but I will explain to you clearly and simply so anyone can understand and edit the home page of the free Google website template home page.  Don't hesitate to ask your doubts with me, ask your doubts at any time.
Just Follow the below simple steps to edit Personalize your home page:
Step 1: All of them like to make the home page more attractive to easily cover the user's mind by choosing the wonderful color combination, adding his branding logo…etc.
Also Read: Top 10 Ways To Promote Your Website On Google
Step 2: On that page top right corner you will see the one of the Gear Icon. Click on that to choose more options and then navigate to the "manage site".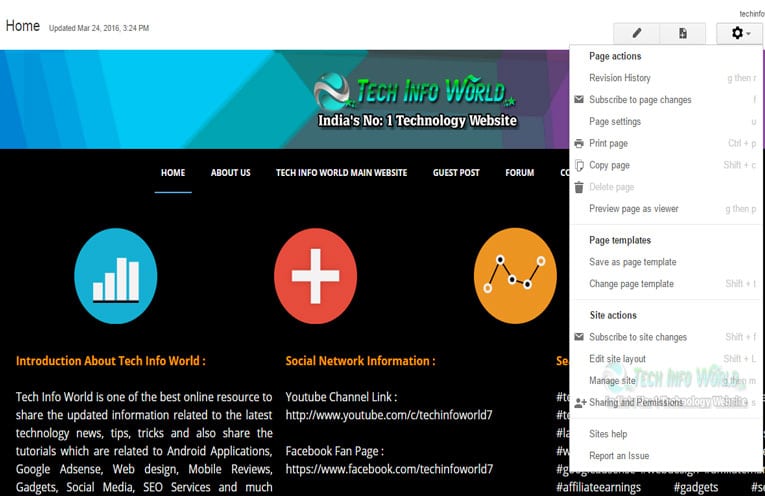 Step 3: Then look at the left-hand side menu, here you will go to choose the "colors as well as well as fonts". Your website will be shown on the right side with your changes what do you change color or fonts?.  Scroll down to change the items that you like, add a logo image, change the color, change the font style…etc. Once you satisfy with your changes means click to save changes will show at the bottom of the page.
Also Read: Top 10 Ways To Promote Your Website On Google
Step 4: One of the main advantages also available you can also use the already created color theme samples for your website. Go to under more options and then navigate to manage the site. Then go to choose the theme you like more. On the top of the main window you will see the preview option, click that to check the theme is suitable for your website, If the theme it's correctly suited for your website means click save changes to activate the theme for your website,
Step 5: Now your website Home Page will be Looks pretty wonderful when compared to other websites.
Also Read: How to Submit Your Website On Google Webmaster Tools
Conclusion:
I hope all of them easily understand the above steps to personalize your free Google website, Slow and steady wins the race, Work hard until you die. Put your efforts to customize the home page of your website.
Any Doubts Feel free to share ask through the comment section. In the previous article, we discuss how to create a free website on Google, now in this post, we all understand and worked to customize the home page of your created Google free website.
Waiting For Next Part We will discuss more wonderful options behind on construction of the website, Keep Staying stunned to learn more web design techniques and tips, Sharing Our Knowledge with Others, Kindly share this article with all, We will meet you on the new wonderful topic soon…