Your system hard drive may corrupt due to various reasons like fragmentation, virus attacks, improper ventilation or faulty CPU fan etc. All these reasons put your data security in danger.
To avoid such a situation and to recover your data from a corrupt hard drive, you can follow a few simple steps. Let's have a look at some of these simple steps to recover your data from corrupt hard disk on Windows 10 instantly and efficiently.
Defrag Disk: Over time, files and other data on your hard disk get fragmented and cause performance issues on your system. It slows down your system performance and even causes hard drive failure or corruption. If you want to recover data from your corrupted hard disk, then first you should think of defragmenting your hard drive. It will help you streamline your data on your hard disk by segregating readable and bad sectors in different chunks. To perform this action on your disk, follow these steps.
First, open the disk optimization tool by heading to the Start menu and searching "optimize" or "defrag" in the taskbar.
Select your hard disk and click Analyze. Note if you have SSD installed on your system then it will be grayed out and not available.
Check the percentage of fragmented files in the results on your system. Note there is no clear rule how fragmented you drive should be before performing disk defragmentation. Hence you can do it regularly for improved performance.
Now click on Optimize button to initiate the defragmentation process.
When your system completes the defragmentation process, it will display a message with 0% fragmented in the Optimize Drives utility.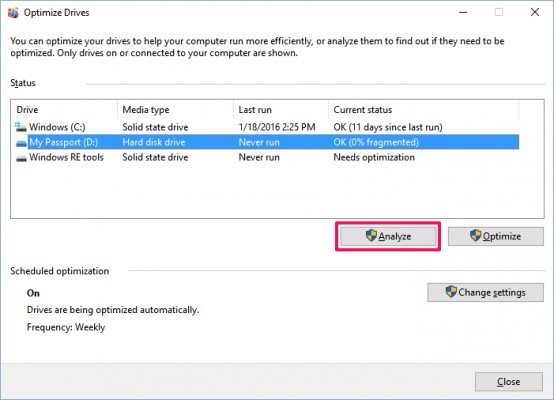 Recover corrupted data using CMD: This is the next impressive command to recover your data from corrupted hard drive without fear of losing your data due to formatting. You can recover corrupted internal hard drive and protect your files using "chkdsk" command prompt in cmd. To fix and recover your corrupted hard disk using cmd, follow these steps.
Press Windows + X keys to bring up the power users menu.
In the power users' menu, select the Command Prompt (Admin) option.
Click on Yes, when you are presented with a UAC window asking for permission to launch the Command Prompt as Administrator.
Here in the new Command Prompt window, type "chkdsk E: /f /r /x. Here you should select and replace E with your drive letter.
Once you press enter, it will run a chkdsk command to check and repair disk errors in Windows 10 system.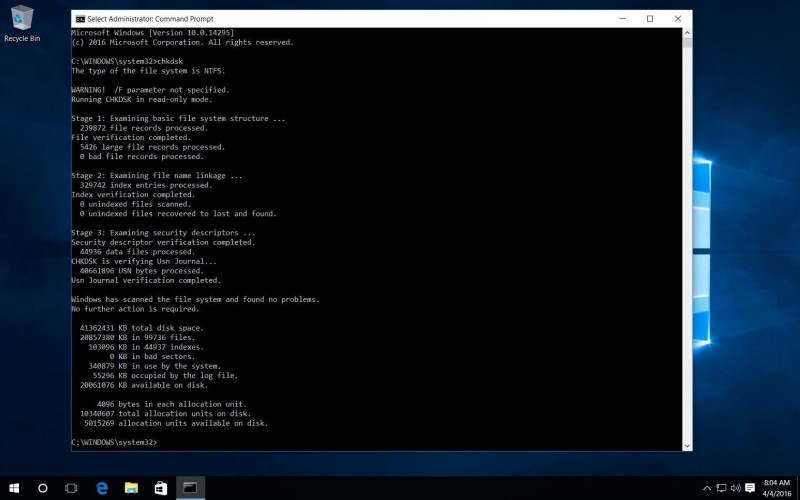 Note: The "/f" parameter tells CHKDSK to find & fix any errors on your system. "/r" parameter tells CHKDSK to locate the bad sectors on the hard drive and recover readable information. "/x" parameter forces the drive to dismount before the process starts.
Try Technology: Using technology to recover data from your corrupted hard drive is one effortless step that can offer you improved results seamlessly. To recover data from your corrupted drive you can use best data recovery software tools for instant and accurate results.
These tools are designed to scan, find and recover your data even from the remotest corners of your drive. These tools use advanced algorithms and latest technology to recover your data instantly. Using these tools, you can recover any type of file or folder from your corrupted drive.
It even supports multiple storage devices using state-of-the-art features. These tools work efficiently even on the most corrupted drives. These tools help you reduce your manual efforts and save your time for improved system performance.
The backup method: This is the remedy to all sort of data related problems on your system. Taking a regular backup on internal or external drives can help you retrieve data when most needed. This conscientious and useful step can help you recover your precious data seamlessly on any platform or network.
You can even consider taking data backup on Cloud servers for safe and secure access. If your hard drive is in really bad shape or corrupted to the level where you can't access data at all then this simple step can help you access your data back effortlessly.
Copy date for another drive: This is another simple step to assure your data security. If you are able to access your data on the corrupt hard drive, then try to take backup of it as soon as possible. This simple process will avoid the chances of data loss in the future.
You may not be able to access data on your corrupt drive later thus copying it to another external drive can guarantee your data security. You can copy the data on the external drive, flash drive, on Cloud servers or another way.
If you are worried about data loss due to corrupt drive, then these simple steps can help you recover data seamlessly on your corrupt hard drive. Following these simple steps, you not only manage to recover your data back but you also manage to save your time to improve your system performance.
Summary: Your system hard drive may get corrupt due to various reasons. Retrieving data back from such drive become cumbersome. Let's discuss ways to recover your data from the corrupted drive in some simple steps.
Apoorv Bhatnagar is working at Systweak Software, as an SEO analyst and technical Content Writer. His ability to writing is android tips, windows, and Mac tricks and he is desirous in writing other technical blogs. You can also find Apoorv on Facebook and LinkedIn.
Here is a collection of places you can buy bitcoin online right now.