Every software created and sold in the market could be 100% bug-free but never hack-free. There exists some kind of loophole in the system which the trained eye of a hacker can spot and exploit to gain unauthorized entry.
What happens when such unauthorized entries happen? It wreaks havoc on your systems and robs you of your sensitive information and also reputation on the Internet. Better to be prepared than fall prey to the whims and fancies of a hacker.
We thought of coming up with some proven ways and WordPress extensions which will serve you defend your WordPress website from potential threats. Here they go.
Also Read: 7 Best Free Review Plugins for WordPress
#1 Request Strong Usernames & Passwords
Charity begins at home, cyber security begins with the user. The first line of defense is always at the user's end. If that frontier is strengthened, the chances of hackers infiltration can be curtailed.
Passwords being the gateways to the website or blog, it is necessary to request users to set strong passwords. Not just the users, but also admins must also exercise caution to set up strong passwords that are difficult to guess, contains alphanumeric characters and have sufficient length.
#2 Limit Login Attempts
Too many failed login attempts are a typical indicator of brute force attacks. Too many login attempts give the hacker enough room to find a way in. The best way to prevent it is by limiting the login attempts to three or five.
Alternatively, the user account can be suspended and the admin can be notified of the abnormal activity. The login can be restored after verifying and establishing the veracity of the failed login attempts. A WordPress Plugin which can limit failed user login attempts is a worthy investment to handle this problem.
#3 Use 2-factor authentication
The Two-factor authentication is so good that even Google uses it. The 2FA works by providing the user with different login components. One is usually the password followed by an OTP in the mobile phone, an answer to a secret question, secret code, etc.
2FA ensures that the hacker is not able to hack into using only one stolen login credential. 2FA Wp extensions can be easily installed and setup. They are typically self-installable extension files.
This is how Google's two-factor authentication works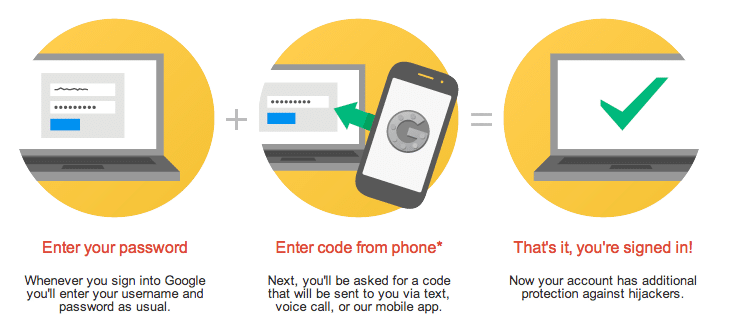 #4 Set up SSL encryption
WordPress is the largest CMS platforms in use, which also puts it in the high ranks of most infected websites.
Succuri estimates that in Q1 2016, approximately 78% of WordPress sites were infected with some kind of malicious software or security threats.
Source: https://sucuri.net/website-security/website-hacked-report
While there is no single way to weed out security threats, the right foot forward can be taken with an SSL Certificate. Extended SSL certificate will make the website HTTPS enabled. The encryption will ensure that the private transactions between users and the web browser are kept insulated from third party interception.
Also Read: Why your website needs an SSL certificate
#5 Update security patches
The team at WordPress is always at the work to make the CMS platform secure and not easily hackable. That is why it is always recommended to update the latest security updates as soon as they are released.
The updates are meant to fix the bugs that may possibly have security vulnerabilities. In the long-run, the habit of updating security patches as and when they are released will help keep all extensions, themes, and add-ons secure from security threats.
WordPress Plugins you can bank on for security
1. WORDFENCE

Wordfence is an open-source free WordPress plugin that comes packed with several features. It is also available in the premium version which has several extended capabilities that the free version does not have.
Notable highlights of Wordfence include Live Traffic – real-time traffic monitoring; Wordfence Scan which notified the admin when the website is compromised or under attack, Password Audit – for strengthening passwords; Country Blocking; Premium Support, etc.
What it offers:
✓ IP blocking
✓ Security scanning
✓ WordPress Firewall & monitoring
✓ Login security
✓ Ipv6 Compatibility
✓ Compatibility with most themes & plugins, including WooCommerce
2. ITHEMES SECURITY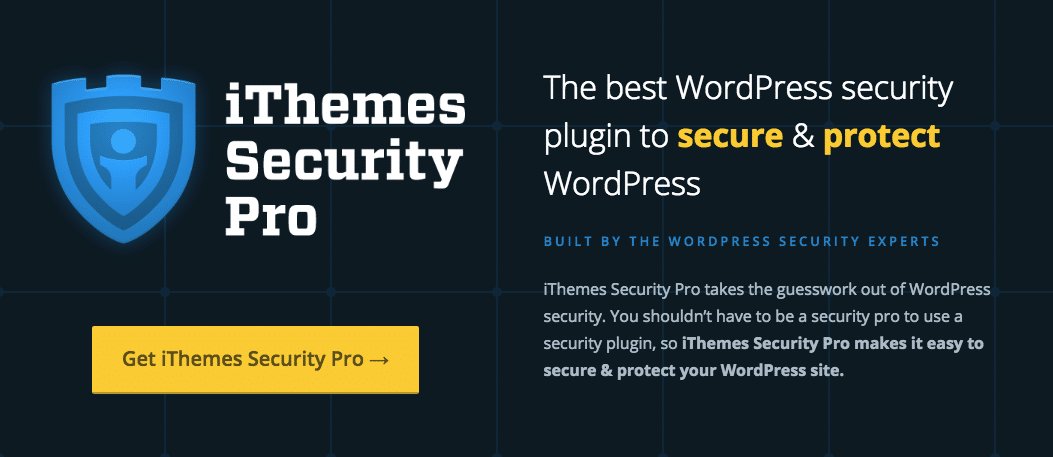 iThemes Security takes out all the ambiguity in WordPress Security. It is simple to install, straight-forward has a number of features to regulate traffic and website vulnerabilities.
iThemes Security helps to lock down the WordPress site in case of brute force attacks, constantly scans for security gaps, highlights weak passwords and also notifies admins of obsolete software that need to weeded out or updated.
What it offers:
✓ iThemes sync integration
✓ Brute force protection
✓ User action log
✓ Login shutdown for invalid attempts
✓ Self-detect for vulnerabilities & bots
✓ Obscures admin dashboard URL for better admin security
✓ Regular backups
Also Read: How to Protect Your eCommerce Website from Malware and Viruses
3. SUCURI SECURITY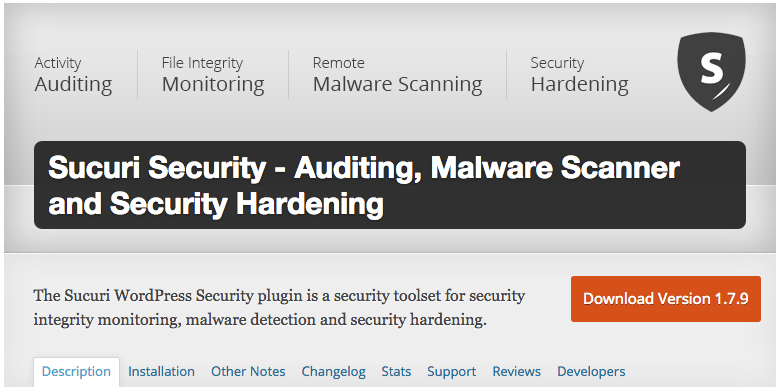 Succuri offers a wide range of online security services, WordPress also happens to be one among its specialties. Succuri shows a difference in is WordPress security provisions with an extensive security audit, malware scanning, and security hardening capabilities.
What it offers:
✓ File Integrity monitoring
✓ Security Hardening
✓ Post-hack security actions
✓ Security activity audit logging
✓ Remote malware scanning
✓ Blacklist monitoring
4. ALL IN ONE WP SECURITY & FIREWALL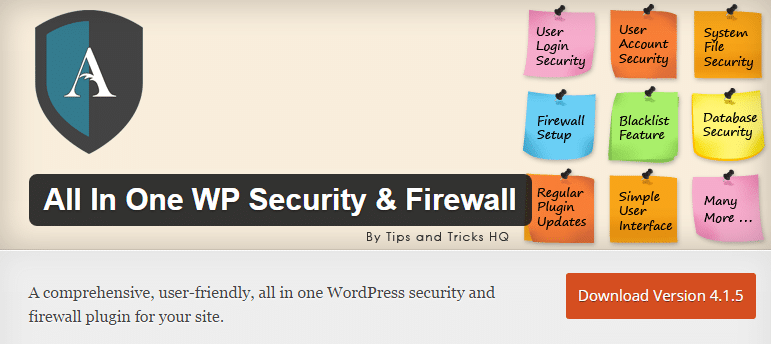 All in One WP Security & Firewall gives a 360-degree approach to securing WordPress websites. The broad security features provided by the plugin include user accounts safety, user login security, file system security, blacklist functionality, DB security, Firewall and scanning provisions.
What it offers:
✓ User account safety measures
✓ Minimum password strength tool
✓ Protection against brute force attacks
✓ Force user log out of timeout
✓ Scheduled DB backups
✓ Detect unsecured files & folders
5. BULLETPROOF SECURITY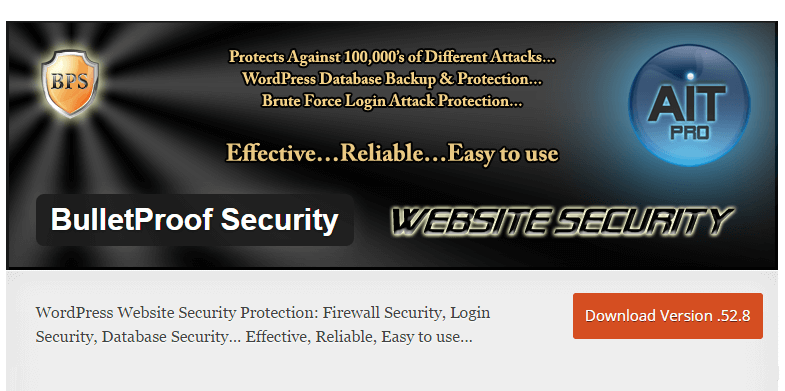 BulletProof Security stands tall to its name with comprehensive WordPress security features like login security, firewall security, Db security, scheduled backups and much more.
There is also a bonus BulletProof Custom code which further strengthens the security system a notch above the ordinary version.
What it offers:
✓ Single-click installation
✓ Email alerts for user activity
✓ Alerts for malicious site activity
✓ Idle session logout
✓ Error & backup logging
✓ 3 theme skins for changing UI
Also Read: How to Protect Your Blog From Hackers
Bringing it all Together
As a website developer or as an owner, you will have to deal with multiple forms of cyber threats on a regular basis. WordPress, although comes with tight security integrations, requires some additional muscle to make it more defensive against hacking attempts.
These tips and extensions are sure to help you protect your WordPress site from harm's way.