Are you know, Why Facebook Ask Add Mobile Number to Your Account ?. Everyone using Facebook for its personal purpose and business purpose. Nowadays Facebook updates some modification of its terms and conditions. Mainly focus on security purpose of your account activity and much more.
Once you login to your account through Facebook app or desktop to login your facebook account. That time, popup window or top of the compose post section, it will ask about to Adding your mobile number to the account or to confirm the mobile number already you include on your account.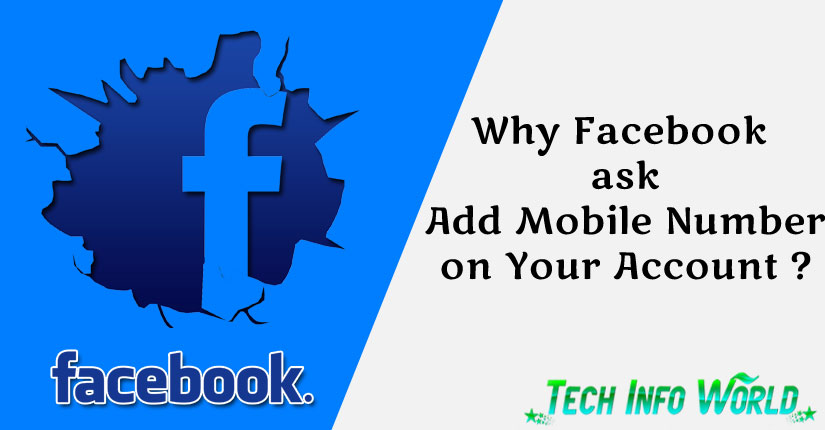 Also Check: Difference Between Blue and Gray badge on Facebook Page?
What is the main use of Add mobile Number to your facebook account?
Below I have the list out of some basic knowledge of, why your facebook account asks mobile number to add your account:
Mainly focus on help to keep your account more secure purpose.
It will Make easier to connect with your friends and your family members on Facebook
If you are trouble to login your facebook account, That time added facebook account mobile number will help you to recover your account.
You may see a number suggested for you based on when Facebook will ask you to add your mobile phone number.
Also Check: How to Change Facebook Notification Tone Android
How will the suggested mobile number be shown on your Facebook account?
It's shows based on Your mobile phone or tablet you are using to logging in your Facebook account.
It will also show based on Your mobile operators such as Airtel, BSNL, JIO, Vodafone, Idea and much more…
And also, Previously your Contact info shared or provided by any of your others friends or family circles on Facebook
At Final Point, Previously If you entered your mobile number on facebook, but didn't confirm it means it will shows in suggestion.
Also kindly Check too, Learn more about the Facebook Data Policy
Conclusion:
I hope this article is really helpful for you to better understanding about, Why Facebook Ask your mobile number to add your account?. Sharing is carrying, if you love this article, kindly share with your friends and all joined social networks. I hope everyone will surely like this option on Facebook