TN ESevai CSC Operators User Manual Download: Tamil Nadu e-Governance Agency (TNeGA) has developed an e-Sevai application for the online delivery of various citizen-centric services of a government department to the public through Common Service Centers (CSC's). To provide government services to citizens at their doorsteps on a 24X7 basis, the e-Sevai application for citizens has been developed.
Also Read: List of Services Offered in eSevai Centres – Esevai Service List
For applying these services, the citizen has to register their profile by clicking 'sign up' and create their own user Id and Password(one-time registration). Then by using these user credentials they can 'sign in' and apply for the services. It facilitates the Citizen to apply for Government services without the manual intervention, the services are end-to-end computerized.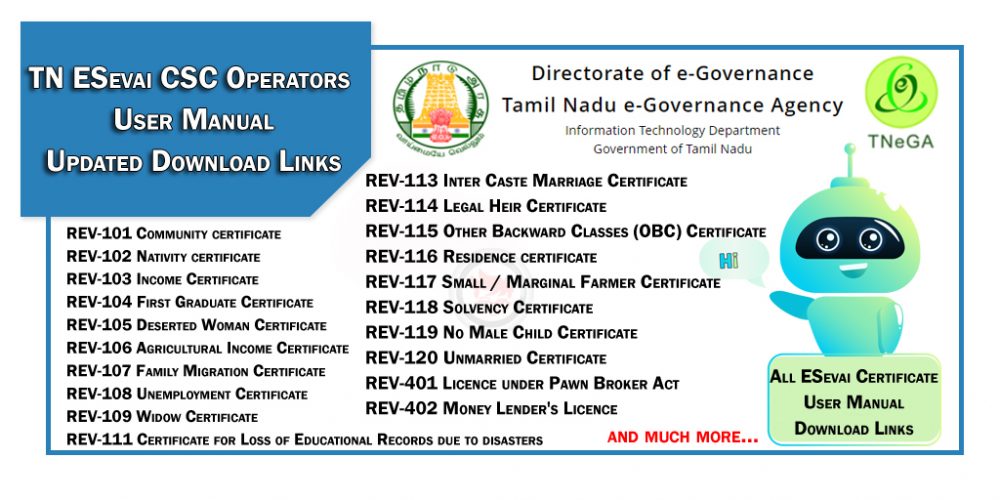 List Of TN ESevai CSC Operators User Manual Download Links
TN ESevai CSC Operators User Manual Download
For More ESevai Articles: Click Here
Subscribe our Youtube Channels to get more latest updates.
How to Avail the Esevai Services, Step by Step Guidance
Visit any nearby Esevai Center
Tell the opertaor to which serivces you required, they have more than 119 services including certificates, licence, eb bill, and so on…
Submit the Application and pay the service charge fees and get the application number for tracking and references
Once Application approved by VAO, RI, Tashildar, Finally you will get the certificate through online.
Download the Certificate through online.