With businesses increasingly shifting toward cloud based applications and data there's growing interest in 4G wide area networking – especially given the unbeatable set up timescales. Whether you're looking at getting a new office online fast, establishing a network at client premises or providing a connection for non-office based teams, 4G WAN could be the answer.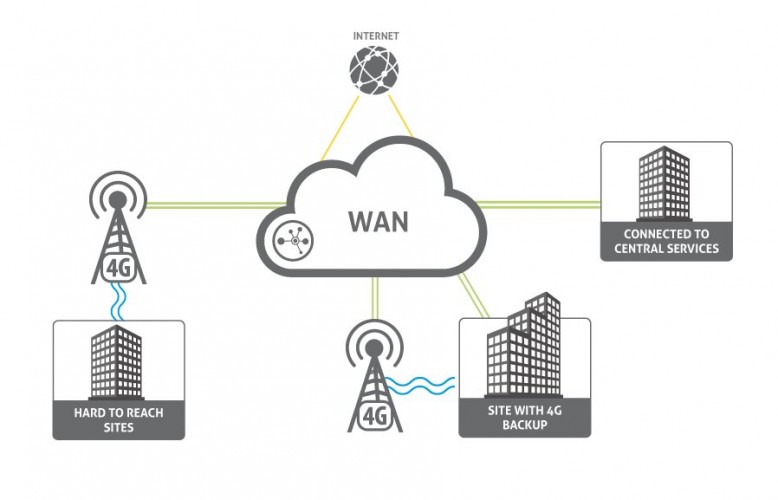 When time is of the essence
If time is not on your side, you might dread looking at the BT Openreach installation timescale statistics. A quick overview shows that around half of all their circuit installations took more than 30 days to deliver – and while that doesn't necessarily mean they've missed their target, one-in-five installations did exceed their agreed installation date. If you're awaiting Openreach circuit installation as you read this you'll want to avert your eyes for the next statistic – as around 1-in-12 installations took over 159 working days – that's at least 7-8 months.
Openreach don't expand on why those timescales can be delayed for so long and so widely – but Ofcom recently decided to reject their previous claims that delays were "out of their hands" and levy their largest ever penalties – a £42m fine and around £300m in compensation to customers and third-parties who rely on their network infrastructure.
Since it's now established that those delays are because of Openreach – you can assume that any delays relating to wayleave, landlord permission and council 'permission to dig' applications would further add to those timescales.
So how can 4G WAN help?
The technology underpinning 4G WAN means performance akin to that of wired networks can be obtained without the wires. While companies tend to still look toward wired networks for their long-term networking plans, an increasing number of businesses just cannot afford to put their plans on hold while circuits are installed – and for some, wired circuits are just entirely unfeasible.
4G WAN solutions are often literally an internet or network connection in a box – and if you're using a managed provider, they can be preconfigured and delivered in 2-3 days.
How does 4G WAN work?
Rather than looking to deliver connectivity through ethernet cables, 4G WAN uses cellular mobile data to establish a connection. Generally, this is done with multiple 4G SIM cards, their data being 'bonded' with a 4G network router to establish an enterprise standard speed – meaning your business has a satellite location online at a speed that is unlikely to ever be achievable for wired connections.
4G routers for business offer a variety of functions – if you're looking at establishing a 4G network yourself, it's worth ensuring any router you decide upon offers true multi-SIM capability. Most commonly, a preconfigured system would come with a router carrying at least 3 SIMs – ordinarily from at least 2 different carriers. Some routers only provide a single SIM slot, which provides no failover solution – and the ones offering 2 SIM slots often only use one active data connection, with the second slot simply providing failover.
Why not just one carrier?
Using multi-SIMs and multi-carriers is a tactic based around ensuring service continuity and stability. Should one provider have an issue with the cellular data then your other carrier's network picks up the slack – you might experience a slight drop in performance, but it's rare that a network is running at fully capacity, so end-user experience is rarely affected. Similar with 4G SIMs, should you experience any technical issue with the SIM itself, there's additional cellular data over which the load can be spread.
Bonding and load balancing
Although we've referred to 'bonding' the data from multiple-SIMs to create one fast and resilient data connection to your network or the internet – this isn't the only option. Choose instead to 'load balance' and each user or application can be allocated a specific data connection provided by an individual SIM. If you're accessing internet based applications that don't require enormous speed and the enhanced data-packet reliability of a bonded connection then load balancing could be for you.
Is 4G WAN suitable for your site?
The answer here is almost certainly yes, 4G WAN is utilised by some of the most remote exploration, mining and maritime companies – so it's likely your need is going to be well catered for. What can vary is how many SIMs are required to establish the speed of connection you require. To be certain, you'll want to talk to a provider who is experienced in deploying 4G WAN solutions – here, SAS Global Communications show what's included in a Rapid Site Deployment box and offer a free site survey that will help you decide on the number or SIMs and particular configuration you'll need for your specific location.
What kind of problems does 4G WAN solve?
As we've already established, 4G WAN is the perfect solution when time constraints mean the opening of a new location cannot wait for hardwired circuit installation. However, this isn't the only time when 4G WAN can be the difference between success and failure. Some other uses include:
Temporary site deployment – such as construction locations, festivals, parties and exhibitions.
Remote location connection – such as off-site working, client location working and conference venues.
Vehicle connectivity – where travelling sales-people, engineers and trainers need a reliable connection.
Business continuity and disaster provision – when the business requires fast network recovery after a system failure or disaster.
Networking mergers – to provide a smooth transition when merging businesses, sites and infrastructure.
If you're working with a managed network provider you can be sure the process is taking place as quickly as is physically possible. Pre-configuration of the system is vital when speed is required – as is an existing working relationship between your provider and carriers.
4G WAN for your business
It likely that there's an out-of-the-box solution that would fit your needs – but it pays to be certain. If you're able to work with an experienced provider you'll be able to coordinate to ascertain exactly what your business requirements are. Don't be fooled into thinking that the delivery and management of the kit is where your managed provider's responsibility ends, it's important that any provider works closely with your business to understand what your end-user experience should look like – ultimately, that's where your business meets its customers, so that's where 4G WAN needs to work for you.