Online Teen Patti game made a boom in the gaming industry since the inception of Online card games portals. Teen Patti has always been the most popular and the favourite card game played in the Indian Subcontinent since decades. And now, Online Teen Patti game is all set to gain the attention of Teen Patti game lovers and leave them spellbound with the ease of the gameplay. Let's take a look at the pros of playing Teen Patti game online and how it is so much better than the offline/ paper card version of the game.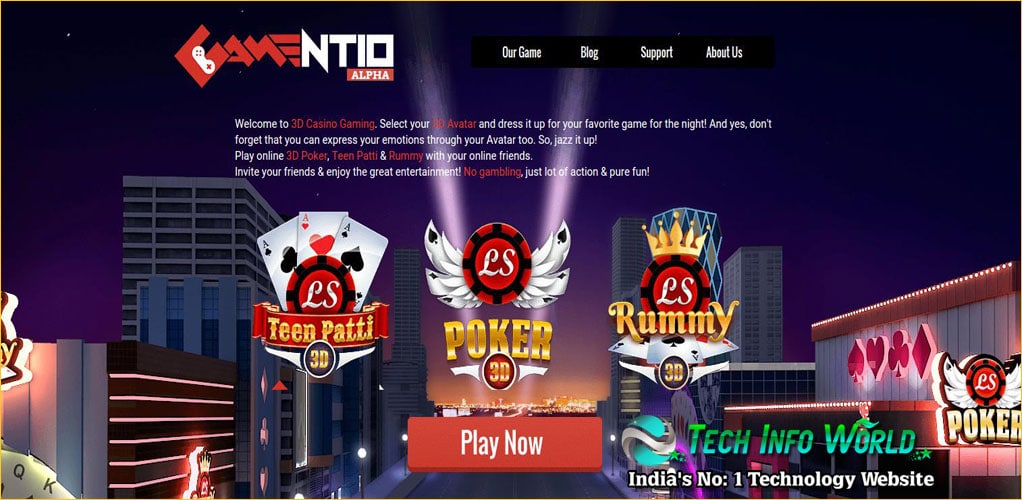 Better chances of bluffing
Playing online Teen Patti game has its own sets of advantages in the gameplay. Since you will be playing on the other side of the screen, no one will get to know from your facial expressions and body language that you're bluffing. Even if you have a weak set of cards, you can easily bluff and raise the bets. Bluffing becomes easily when playing online Teen Patti game while it is not the case with an offline version of the game. Most often than not your opponent sees through your face and knows that you're bluffing in the game. So, online Teen Patti game has an edge over the paper card version.
No investment of money- no gambling
If you're not one of those people who loves to play for real money and who loves to gamble then online social casinos are your thing where online gameplay is free of cost with zero investment whatsoever. Such kind of gameplay is offered by Gamentio- an online social casino, where online Teen Patti game is free to play.
Social Interaction
Online platform gives you an opportunity to play with people from across the world. This, in turn, helps you to make new friends and expand your social circle. You get an opportunity to interact with people of different cultures, ethnicity, and regions. Acc. to researchers, many people have found their love on gaming platform who went on get married at a later stage.
No one can break the rules
On an online platform, rules are pre-decided and it is almost impossible for anyone to break the said rules. Hence, the chances of your opponent cheating you minimizes to a non-existent level. The game proceeds further according to the rules and everyone gets to play fair and square with the fellow players.
Proper time management
Time management is an important advantage which is offered by online teen patti game i.e. a player has to make a move in a stipulated time period. No player can make the other person wait for too long as he loses his turn when the time allotted to him gets over. So, in this way the game is wrapped up in a few minutes rather than going on for hours on a stretch as is observed in the offline/paper card version of the game.
Gift voucher on some websites
Many online game portals offers redeemable vouchers in return of the points you earn by playing the online Teen Patti game. This is a great motivator for many players around the world to earn while you play. Not a bad deal!
Comforts of home
The best one indeed. You don't need to go out or gather your friends at home for a game of Teen Patti when you can just sit back on your couch and play Teen Patti online. Be at home, relax, have a cup of coffee and play with your friends from around the world. That sounds like a perfect weekend tip. Not sure ? Give it a try once!
I'm sure you would love the experience and enjoy online Teen Patti gameplay as most people does. Look out for more free online game portals which offer online Teen Patti to practice more and more before you make up your mind to enter the market of real money Teen Patti.
Author's bio
Swati Panwar is a Content Writer at Gamentio. She is a technical writer by day and an insatiable reader at night. Her love for casino games could be seen in her write-ups. Besides this, she is also fond of poetry. She's extremely empathic towards animals and when not writing, she could be found cuddling with her cat.