We often hear from internet marketers and bloggers about Alexa ranking but somehow maximum of them are not sure how to improve Alexa ranking? They still focus on wrong practices or black hat practices for increasing Alexa ranking.
After every Google algorithm update, everyone has fear to lose their Google ranking in the same way Alexa update its algorithm time to time so whenever they found peoples are using wrong practices for improving Alexa ranking they hit them down instantly.
If you are unaware what are do's and don'ts for improving Alexa ranking then read this article I am sure after reading this article you will I know how to improve Alexa ranking with white hat practices?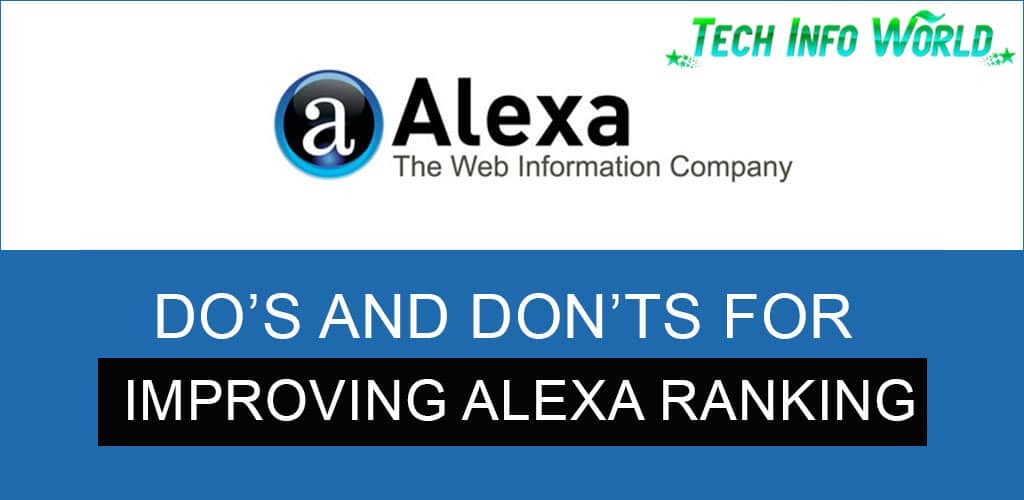 Here is the list to do's for improving Alexa ranking
Producing regular quality content
I consider this the most important factor to look while planning to improve your Alexa ranking. Try to produce regular quality content that engages more visitors.
If a visitor visiting your website finds quality content is posted on your website then they will return back in future and share your website or blog with others in their circle. In this way, the number of visiting your website will increase and hence it will automatically give a boost to your website ranking on Alexa.
Number of backlinks
The number of backlinks a website have will helps in improving Alexa ranking as well as it will make sure that your Google rank will also get improved. Building quality backlinks will increase the trust and quality and also specifies the niche of your website among various search engines.
Social Media Optimization or SMO is the main source these days from where experts are driving almost half of their website traffic. Research showed by 2019 SMO will take over the SEO in the case of traffic sent. I myself driving the maximum of my blog traffic from the social media platform.
The important role of forums
I think you are well versed with the fact if you answer questions in the forums related to your blog and if you have any related post on your blog embed a link to that post on your blog.
Increase the number of subscribers in your mailing list
If you have a long list of subscribers in your email and you keep them active with weekly or monthly newsletters then this can also help you in improving Alexa ranking of your website.
Do share all the latest posts and updates from your website with them in the form of newsletters. This will let them know that you care for them and they are important to you.
Here is the list to don'ts for improving Alexa ranking
Never use black hat SEO tricks
If you ask any expert in black hat SEO they will surely ask you do you want to ruin your investment in your blog or website and I know you don't want to waste your hard earned money or your pocket money by using black hat SEO tricks. Never use such practices for improving Alexa ranking.
Don't do spam activities in forums
There are unlimited forums available on the internet from where you can attract a large number of traffic but if you try to spam the environment of the particular forum and do not follow rules made by the owner then either they will give you a warning or directly kick you out of the forum.
You will lose the chance to promote your blog or website and also will not be able to attract traffic.
Don't compromise with the quality of content
Again I would suggest focusing on the quality of the content for improving Alexa ranking. Never ever compromise on the quality and uniqueness of the content. Don't use tools and software for writing or rewriting the content. This will rather decrease your Alexa ranking and also your Google page rank will be decreased.
Don't irritate your email subscribers
Your email subscribers are the follower's list to whom you can reach even in the midnight with just an email but if you will try to spam them by sending irrelative emails or promotional emails then they will unsubscribe your email list and you lost your precious follower. Avoid sending spam emails and make them feel that you care for them.
If you follow the above do's and avoid the don't then no one can stop you from improving Alexa ranking in a short period of time. Just avoid the spam or black hat SEO tactics. Do share other do's and don'ts in the comment box. Don't forget to share this article on social media and in your circle.
Cheers!!!
Author Bio :
I am a student of engineering by mistake and blogger by passion. I love to learn new things and test them practically before sharing with the world. Do check my personal blog.