Stop Unwanted Apps: Happy to welcome you all to this new technology post, I hope all of my previous articles will be the great use to you as well as your friends. Thanks for all your great support, keep supporting and encouraging me, Ok!! Now let's come to this article, Generally, Most of them like to make their system faster than others' systems.
They mainly focus on the system process, configuration, and processing speed. Some of them told me, that I am having a great configuration as well as a speed processor but my system will be started very slowly, and I can't access it with more speed.
Also Read: Top 12 Tips to Get More Backlinks from Your Website
I will give the correct solution to solve this problem on your system, once you started your system means some of the inbuilt apps will be started automatically, it may cause the system slow and increase the process to take overtime to load.
In this post I would like to share How to stop unwanted apps, starting on each boot, it will increase your booting speed as well as accessing your system with more speed when compared to the olden days' system speed.
Must Read: Convert Any Video into Audio Without Using Software?
Below I will show the simple steps to stop unwanted apps on startup:
Step 1: Go to the start menu, then in the search bar type as "run" without quotes and press enter. A run dialogue box will be opened
Step 2: In this Run dialogue you will type as "msconfig" without quotes. Then press the enter key…
Must Read: How to Download YouTube Videos without Any Software
Step 3: You will see the system configuration dialogue box on your system, In this dialogue, go to the startup tab and check how many apps are shown, Here choose the unwanted list of apps running to disable. Then click apply and press Ok. A window will be automatically closed.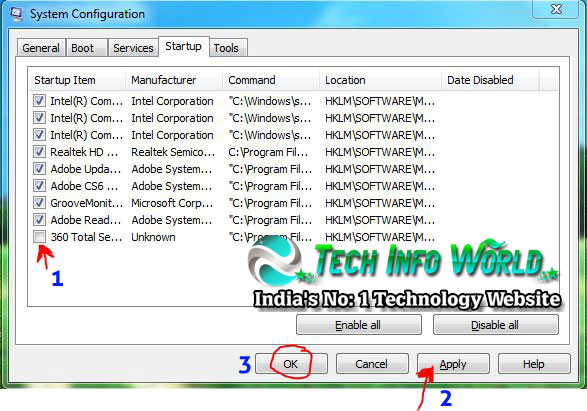 Step 4: Now restart your system, to see the great effect of startup loading speed.
Note:
Important Note for doing these steps you must confirm, that a particular app will not be affected by your system; don't disable the system apps on startup.
Conclusion:
I hope this article will be used for you to improve the speed of your system startup. Most of them already know these options done perfectly on his system, Thanks for reading our technology article, Sharing is Wealth; Kindly share this post to all your social networks, We will meet at the new wonderful technology post as soon, keep stay stunned to get latest updates for technology news, tutorials, tips and much more…