Hi Viewers, Nowadays Facebook is one of the best social networks in the world. Most of the peoples can use facebook daily life, They spend at least more than one hour to use Facebook to update status, change his profile picture, change his profile cover page photo…etc,
Most of the people used the Facebook social network for communication purpose, easily communicate his friends, families, relatives anywhere in the world.
In this article, I want to let you know how a facebook cover photo can be created. The cover pic is the public picture that is visible to all the people who go through your profile even though they are not on your friend's list. Hence, it becomes quite important to have a good cover picture on your page.
Also Read: How to Change Facebook Notification Tone Android
Facebook has restricted the size of the cover picture to be at least  399 pixels wide and 150 pixels tall. Your Profile picture may seem like 851 pixels wide by 315 pixels tall on your Page on computers and 640 pixels wide by 360 pixels tall on smartphones. But, as you cannot upload each and every picture as cover pic. Hence, let us see
Must Read: Difference Between Blue and Gray badge on Facebook Page?
How to create your own facebook cover photo in simple steps :
STEP 1: Select your desired photograph to be uploaded as a cover pic.
STEP 2: Open Your picture through Paint. Click on Resize option on the top and a dialog box appears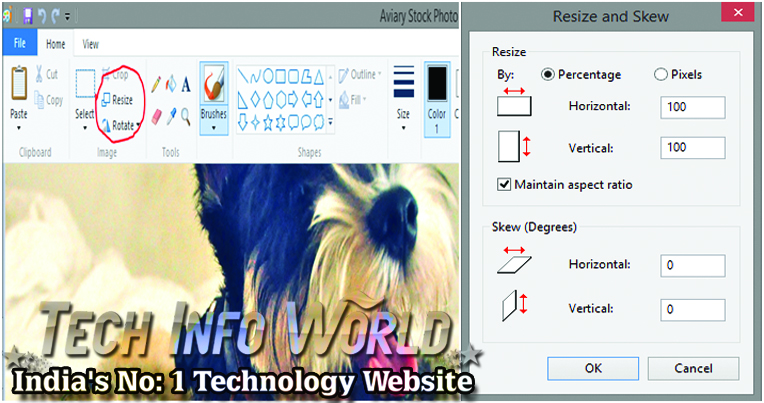 Also Read: How to Play Basketball Game on Facebook Messenger
STEP 3:  select pixels option and enter the pixels value greater than 399 pixels and vertical dimensions greater than 150 pixels. Save your photo.
STEP 4: now upload your photo to cover pic. You have created the desired cover picture of your page successfully.
How to create our own facebook cover photo infographic Check Here
Conclusion: 
I hope this article about How to create our own facebook cover photo is really helpful for all. Most of them know this simple option on facebook, but none of the begineers still didn't know the facebook cover picture size and all, that's why I like to share the article. Sharing is carrying, share this article with all joined networks.