A perfect marketing quote for all those businesses, who want to promote their products or services through different marketing platforms. Not only products even they can market their application using different social platforms.
In recent years, social media platforms have been established as one of the most effective marketing channels for developers, who are looking forward to promoting their applications to reach the targeted audience.
If you have spent long hours researching, analyzing, designing & developing, and launching an application, you also need to spend time on marketing your app so that people know about your application, download it and use it when required.
Also Read: Top 8 Free Job Search Apps for Mobile
However, social media websites like Facebook, Twitter, and Instagram give an opportunity to all developers – irrespective of size or finances – to build a huge audience of potential buyers.
Day-by-day, more and more businesses are giving prominence on promoting their apps through social platforms, ditching traditional mobile advertising campaigns. If you also want to promote your mobile application using different social platforms, this post contains 8 creative ways to perform this job easily.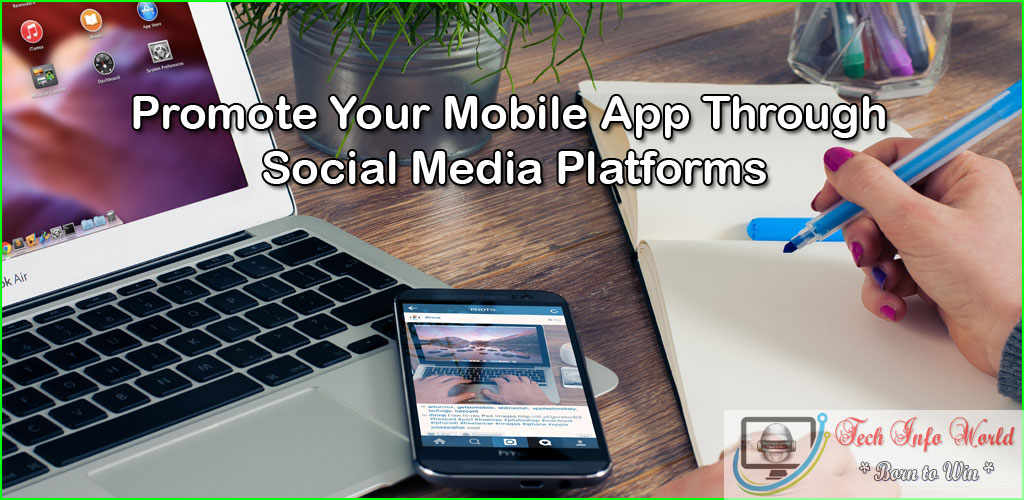 Let's Have a Look at the 8 Effective Ways to Promote Apps Through Social Media:
Facebook Messenger and Group
Do you belong to any Facebook group? Have you ever thought of using a Facebook group for your business application? You may know about Facebook ads that can be used to drive app installs, but you can also promote your application in various Facebook's groups as well by running ads in groups or organically.
No matter whether you are going through organic way or choose to run ads in groups, Facebook Groups is an excellent platform for instantly generating an audience. As an example, Peachmode is the biggest online fashion retail that used carousel ads and Facebook groups to complement its dynamic ads, effectively re-targeting the right people and increase business.
The brand successfully lowered its cost per conversion by 50%, increase in repeat customers by 25%, and 2x return on ad spend. Facebook groups enabled the brand to target right core audience without even breaking their bank account.
The brand got huge help in achieving an extreme return on spending. Thus, you can also make use of Facebook chatbots to run promotional offers that are related to your apps. Ignoring Facebook messenger can leave a big gap in your successful app promotion strategy, so make sure to consider it.
Also Read: How To Easily Turn Your Blog Into A Full-Time Job
Twitter
Currently, there are millions of people, who are using Twitter on a daily basis, and approximately 85% of those are accessing through a mobile device. Marketing through Twitter allows you to target these users and boost app installs and engagement level.
Moreover, Twitter is one such social media platform that allows you to reach influencers by commenting them in your tweets. Last year, the platform had launched one feature named "Twitter Cards" that can be used to boost the visibility of your application and increase number of downloads.
Also Read: Why job placement consultancies need a Mobile App?
In any case, if you are running a promoted Tweet Campaign and enabled deep links in your Twitter card, the targeted audience can see a call to action that prompt them to click the link and open the app or they can download it directly from the app store.
Product Hunt
When it comes to talking about the Product Hunt, it is the most powerful website, enabling users to share and discover new products every day. Allowing you to find the latest mobile apps, websites, and technology products that are launched on daily basis.
So, get hunted your mobile application on Product Hunt as it can give a rapid increase in the app's visibility. As it is a highly-engaged community, your mobile app will get sudden installs and if you are featured on the homepage of this website, you can notice a momentous leap in installs.
Also Read: 3 iPhone Apps that will Rule 2017
However, the number of raw traffic on Product Hunt is completely dynamic and this is what that makes this platform the most passionate community and a list of influencers will help you out in getting more value as compared to the raw increase in installs.
Instagram
Currently, Instagram is the hottest social media platform that is gaining huge popularity among business as well to promote their products, services, and applications. As per the statista.com, Instagram now has more than 600 million users worldwide – an increase from 500 million in June 2016.
In the below-given graph, you can see a gigantic Instagram's user base and growth rate:
If you would like to increase downloads of your application and let people know about it, Instagram is the magic spell that can give a huge impact on the downloads and visibility.
Having a presence on Instagram regarding your application allows you to go as granular as you want with different targeting alternatives. In addition to this, you can also talk about those people who have downloaded your app and show videos and images about it.
Also Check: Do's and Don'ts for Improving Alexa Ranking
There are three different types of options obtainable at Instagram, including picture ads, carousel ads, and video ads. Considering the budget, you can make use of each of these options to run an app install/engagement ads.
Quora
Do you know that Quora is the biggest social network? It is a question-and-answer site, where you use to organically promote your application. Currently, the website has more than 400,000 topics and you can follow topics that are relevant to your application.
You can easily keep an eye on questions related to different problems to your app attempts to solve. Various topics have thousands of users and questions, and Quora makes it extremely easy for you to follow related topics.
Once you get into the related topic, you can begin answering different questions and plug your app whenever it is appropriate. As Quora answers are indexed by Google, so you should write a good answer that will rank higher in SERPs for targeted keywords and after some time views and up-votes. This way, you can increase app installs.
If users found your application best, they will recommend it in their answers that is called a word of mouth effect.
So, these are the 5 creative ways through which you can market your mobile application using social platforms. These five platforms can promote your app and help you to increase installs; however, you can also share your views by commenting below.
Check it: Yahoo Native Ads: A New Level Of Advertising.
About Author: Mohd Sohel Ather is an experienced tech content writer and guest blogger at SpaceOtechnologies.com He has worked with some of the leading company and brands to build their online presence. And participate in all high-quality blogs like Tech Info World.