Days of Symbian and Java phones are gone. This is the era of Android Smartphones. You may have seen this that with every passing day more and more people are moving to Android phones, not just because they are tough friendly but because they offer so many features those others phones cannot offer.
In Android phone, you may see so many apps that will help you to do various things such as calling, phone book, chatting apps, etc. Not just the basic apps but every single online company, blog or website is creating android apps to expand their reach to the millions of Android Smartphone users.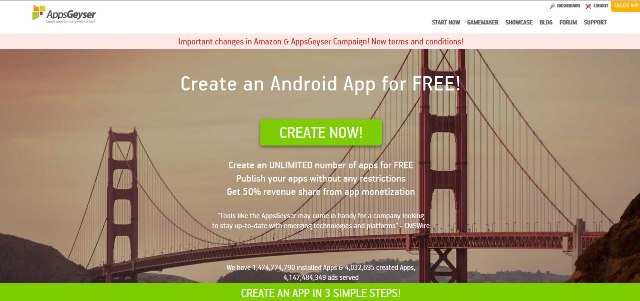 Even college students are running their own apps. There was a time when to create an android app it was really necessary that a person should know how to code. But with the advanced technology and thanks to the online sites which helps you to create android app absolutely free.
Also Read: How to Stop Android App Auto Update on Google Play Store
Before we see that how you can create an android app for free, let`s see the benefits.
 The benefit of your own Android app for a website or blog:
It boosts user experience as Android Smartphone users can see your blog on their phones.
It also gives a professional look.
It also boosts traffic when more and more people download and use your blog
So you see these are few of the benefits which an Android app brings to your blog or website.
Check my App: Tech Info World Android App on Google Play store
How to create an android app for free:
Today I will show you how you can create an absolutely free android app using Appgeyser.
First, type AppGeyser.com to open Appgeyser site.
On Appgeyser site hit "Create Now".
You will see two options "Other App" and "App for Business". Another app option is to create an app for website, blog, messenger app, photo editor app, slot app, or machine puzzle app etc. But "App for Business" option allows you to create apps for Business, store, taxi, law firm, restaurant and real estate.
Here we will create the app for a blog.
So click on "Other App"
Click on "Blog" button.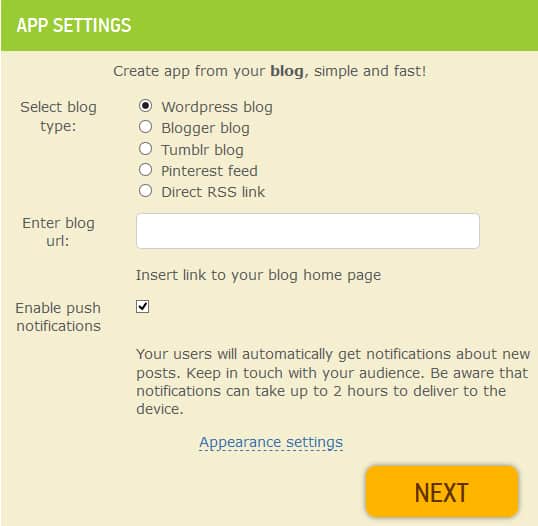 Select blog type and enter URL of your blog and click on next
On next page give "app name" and click on next
On description page enter the description for your android app and click on next
On Icon, page choose the icon for your App and click on next
Now click on "CREATE" button.
Now registration page will open, enter details and click on "SIGN UP"
Now your app is ready.
You can download your app and even publish it on Google Play or Amazon app store and monetize it.
Also Read: Critical Questions Developers Should Ask for Developing a Mobile App
Android app is a good way to make the blog a brand. I always recommend you to use android app and extend your reach to Smartphone users.