In this tutorial, I would like to share the wonderful simple trick for windows 7. That is how to change windows 7 logon screen background image as manually. Most of them know about these tricks but some of them not aware of this trick. Its the safest trick and best things to make your pc to look very cute on its opening screen.
Steps to change windows 7 logon screen background image :
Step 1: Go to the start button on your system, then type "Run" On the search. To Press Enter Key.
Step 2: In this Run box just type "Regedit" without courts. Register Editor Window will be opened on your desktop screen.
Step 3: Navigate to HKEY_LOCAL_MACHINE\ Software\ Microsoft\ Windows\ CurrentVersion\ Authentication\ LogonUI\ Background. It's the main step you need to do it manually.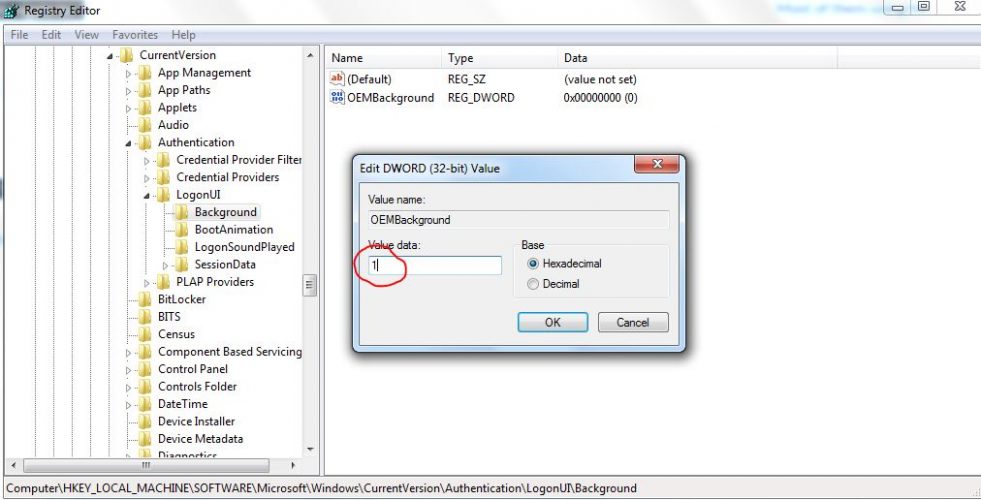 Step 4: It's the main important step you have done it manually and achieve this trick. Double Click on the OEM Background and Change the value data 0 to 1. Check the above image for a better understanding and clarification.
Step 5: Now go to C:\Windows\System32\oobe on your Pc
Step 6: On that location, create a new folder named Info. And also, create a new folder inside the Info folder and renamed as it as backgrounds
Step 7: Choose the best background for your pc Logon screen with an image size of less than 256kb. and paste it on the backgrounds folder & rename the image name into backgroundDefault.
Note: The image must be in .jpg format and size is less than 256kb.
Step 8: You are done. Reboot your system and see the changes on your pc Windows 7 logon screen
Another Method to Change Windows7 Logon Screen :
If the above method does not work means try this solution
Step 1 : C:\Windows\System32\oobe
Step 2:  Check any images named background on that folder. Change the image as you like and renamed as background.
Important Note : The background image must be Bitmap Image (.bmp) format and size must be 1024 x 768 
Step 3: You are done. Now reboot your system and see the changes. Follow the rules correctly otherwise it won't work on your pc.
Conclusion: I hope this article will really helpful for you to change the wonderful background screen on your Windows 7 Logon Screen. I tested it on my pc. its work 100% try it on your pc and put comments about these tricks
and ask your queries.