How to Use Parental Apps to Block Apps on Your Child's phone: As parents, one of the biggest worries that we have is not to have an idea about the online activity of our children. There is a lot of content online which is not appropriate for children. Especially the applications and games available for both Android and iOS can create problems for your kids.
One of the most recent examples of such games is the Blue Whale game which claimed lives of children around the world. There are so many apps which do not show up on Play Store or iTunes but they can be downloaded from third party websites.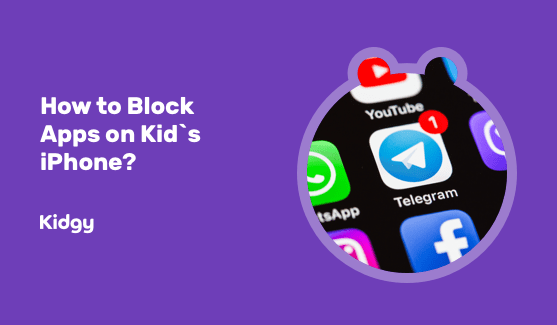 The risk is not limited to these websites but to social media platforms as well. You cannot depend on the security provided by the social media apps like Facebook for the safety of your child. So, you should have some way to block the installation of such apps which are inappropriate for the children. With a mix of apps and inbuilt parental control features on Android and iPhone, you can create a safer environment for your children.
iPhone parental control settings to block apps
If you use an iPhone or you have gifted your child an iPhone, you can set up restrictions on the phone so that they cannot have access to inappropriate applications and websites.
How is it done?
First of all, go to settings
Now click on General
There you will find Restrictions
Now turn on the restrictions
Turn on Restrictions
It will ask you to set up a restriction Create a secure password.
Under these settings, you can restrict apps from sharing photos, locations, videos and other content over the web. This will protect your children from giving out location and identification.
You can make these changes for all the applications on the iPhone.
By switching on "Do not allow changes" you can make sure that without punching in the password your child won't be able to make any change in the settings.
For additional security, you can install apps like Kidgy's Block Applications from the Apple store.  You can check out App from This URL https://kidgy.com/block-apps
Android parental control settings to block apps
The easiest way to block some apps on your android phone is by creating a restricted user profile that your children can use. Under the settings of this profile, you can allow a selected number of apps to appear on the home screen of the phone make it impossible for the children to have all the applications.
However, it is not a 100% assured way. It is always better to use an app to restrict the usage such as Kidgy's Block Applications. This application helps in monitoring the smartphone of your child and blocks the unwanted apps. With the help of this application, you can restrict your child to have access to age-restricted applications from play store and can also stop unauthorized apps to get installed on the phone.
Smartphones can help your child in many different ways like in education and interaction with the friends and family. However, it also opens them to vulnerability. To make sure that your child does not have access to any unwanted application, using apps like Kidgy's Block application is the easiest and best way. Most of these applications are free of cost and available for both Android and iPhone.