Earn Money: You are probably one of the millions of peoples today who have put forward this question that is it possible to make money through blogging? And the answer is 'yes' but with conditions. I am pretty sure that you have already heard all those success stories from the people around who are earning their complete or partial income through blogging and that is probably the major cause of you being curious for this matter.
I will not discourage you but maybe you will find it a bit difficult after getting my answer because I am going to tell you what exactly you need to earn through blogging and how much patience and time it demands.
Still, I say that it is the most decent way to earn money while staying at home and giving quality time to your family as well. If you are a family–oriented person, you must give it a try because sooner or later, it will let you earn a good income for sure.
Before you take any steps to make money, you have to build a strong relationship between you and your readers through offering quality content. Keep one thing in your mind;
there are two different ways which you can choose from to write a content and present it to your audience, first, which those bloggers choose who are misguided through various SEO experts and online earning campaigns that write a content about highest paying keywords or just add a bloat of those keywords no matter they suit your content or not, I tell you, it is the worst approach for successful blogging.
The second way is more appropriate and it will let you earn a good consistent amount but after a year or two. This way goes with the content which is based on your interests and you have a good amount of knowledge to share about it.
Earn Money Through Blogging
The topics which are based on your aptitude will make you even more creative and your content more appealing whereas keyword based content, which is totally new for you, will show a clear sense of unfamiliarity between writer and content to the reader.
So, first of all, build a strong blog and drag your audience. After getting good traffic, it's time to move on and earn some money.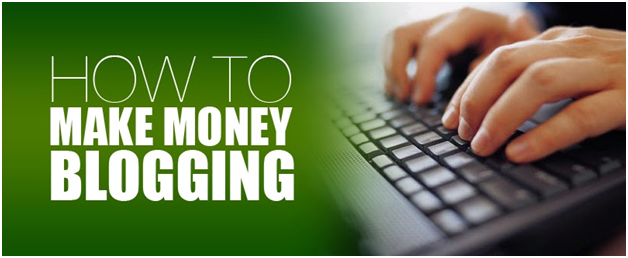 Work for a Blogging Company:
This way is nothing to do with your own blog. If you are a good blogger and you do not have your own blog setup, you can earn by writing for others. You can say that you are hired as a blogger when you choose from paid blogging jobs.
There are several platforms which you can use to search for such a job like freelancer.com or oDesk. You can get yourself registered, make your profile and present yourself as a blog writer. Let companies pick you for the job or do bids to sell your services to them.
It is up to you how wisely you can pick your employee. Most of them are verified companies but for rest, you can check reviews from people who have already worked with them.
Display advertisement in your blog posts:
If you have already made a strong blog and got a targeted audience, you can earn by displaying ads from different ad companies at your posts. The biggest ad network around is Google AdSense which you can monetize your site and Google will start placing ads at your posts.
These ads will be relevant to your content, for example, if you are writing something about vehicles, Google might place ads about cars, auto maintenance, and other relevancies.
When some visitor stands by your post an after going through, he intentionally or by chance click on that ad, Google will pay revenue.
Secondly, you can also get paid for a specific number of visitors. Displaying ads might be a tricky scene though, you are free to paste ad anywhere in your post but you have to do it wisely.
Take a start by placing only one or two ads if you don't have a good number of visitors yet. Increase gradually or you will end up with huge traffic drop.
Sponsored posts:
Another good way to earn money on your blog is through sponsored posts. As you already knew that all of the activity on your blog is monitored by Google and you are ranked on its behalf.
If you have a large audience and a good response level for your content, chances are that some companies will contact you to display their own ads for brands and services on your posts.
Suppose you are writing good posts about tips and tricks to write an essay or some other post relevant to this topic, most probably some essay writing service will contact you to display their ads on your posts. When someone visits your blog, he might be interested in essay writing service and seeing that ad, he can click it and go directly to that essay writing company's website. That way, it is profitable for that company and so they can hire you for sponsored posts.
Sell your products on the blog:
It is might be the most popular way to earn through blogging. If you have some potentials to create something and you are going to sell some products, you can sell them through your blog.
It is the most common practice which you can observe through checking different service providing websites or some brands that they have got a good blog set up to attract traffic.
You can sell your products on eBay but you have to pay a fee for that. Selling at your own blog posts is easy and free.
Promote your business:
Searching for a voice to promote your business? Your blog is the best way to promote it. You need a good client rate to have a successful business and your blog can attract clients.
Keep updating your blog to develop a good connection between you and your customers.
All of the above-given ways are the authentic, approved and most popular ways to earn money through blogging but consistency, and patience is the two major conditions, remember it!
Must Read: How to Create Android App free for Your Website?